Diabetes: Find and Treat it Early for Lifelong Health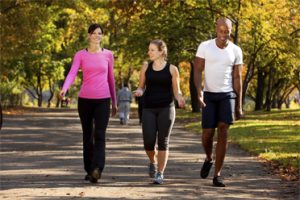 Today, nearly 29.1 million Americans live with diabetes, including almost 1 in 10 people in Washington state. Of those, 8 million don't even know they have it. While diabetes is a life-altering disease that requires people to change the way they live day to day, it can be managed through a healthful lifestyle or even prevented for those who are at risk.
Diabetes is a disease in which there is too much glucose (sugar) in the blood, and occurs when a person's body is unable to produce or use insulin, a hormone that regulates blood sugar levels in our bodies.
Type 1 diabetes, occurring when the pancreas produces little to no insulin, is typically diagnosed in children and young adults and can be managed with daily insulin injections. Type 2 diabetes, which accounts for 90 percent of diabetes cases, occurs when your body resists effects of insulin or doesn't produce enough (this type is commonly linked to obesity).
If left untreated, either form of diabetes can increase the risk of serious health complications including heart attack, kidney disease, limb amputation and blindness. Fortunately, the earlier you detect diabetes the better your chance is of avoiding future health problems.
The first step to managing diabetes is to learn your risk factors and get a screening. Individuals who are particularly at risk for diabetes include those above the age of 45, people with a family history of diabetes, individuals who are overweight or who have infrequent or irregular physical activity, women with a history of diabetes during pregnancy and certain races and ethnicities such as Pacific Islander, Asian-American, Mexican American and African American.
Individuals with diabetes may show symptoms including frequent infections, extreme fatigue, frequent urination or tingling and numbness in the hands and feet. If you notice any of the above symptoms or have one or more risk factors for diabetes, you should get a screening from your doctor as soon as possible.
People with diabetes need to change their diet considerably and increase the amount that they exercise. Management of the disease includes monitoring of one's blood sugar as well as controlling cholesterol and blood-pressure levels.
For my patients with diabetes, I recommend seeking out extra support in the management of the disease, starting with finding the right group of providers to help manage your care.
Next, I recommend taking a diabetes-education and nutrition class; these are offered at several local health care facilities in the Puget Sound region. These classes help you learn how to change your diet, set specific, attainable goals and track your progress.
As managing diabetes can be overwhelming, I also often recommend that diabetic patients build a support system. Whether it is friends, family or others in the community with the disease, having a support group can help motivate you at challenging times to reach your health goals.
In addition to managing your diabetes care, it is important to maintain a healthful lifestyle through eating right and exercising regularly. For those who do not have diabetes but may be at risk for developing it, eating healthful foods and exercising regularly can lower the risk and help prevent the occurrence of type 2 diabetes.
Aim to get 30 minutes of moderate aerobic exercise every day with activities such as walking, biking, swimming or dancing. Eat a healthful diet that contains plenty of vegetables and fruit, whole grains and lean proteins. Your diet should also include nonfat dairy products and sauces and oils that are low in saturated and trans fat.
I also advise patients to shop the perimeter of the grocery store and avoid the processed and packaged goods that are usually found in the middle. Those foods are usually high in sugar, fat and calories and should generally be avoided.