How you can halt the diabetes epidemic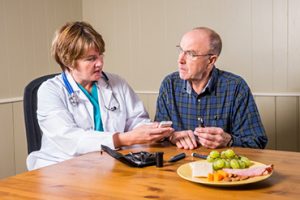 Researchers are predicting a dramatic increase in diabetes over the next 40 years. The Centers for Disease Control and Prevention (CDC) estimated that in 2010, 11.3 percent of Americans aged 20 years or older had diagnosed or undiagnosed diabetes. That's more than 1 in 10—and some don't even know they have diabetes! Fortunately, we each have the ability to prevent diabetes, or at least delay its onset.
The numbers for Washington state are equally troubling. The Institute for Alternative Futures, using CDC data, predicts that by 2025 the number of Washingtonians living with diagnosed and undiagnosed diabetes will increase 88 percent. And the medical and societal costs of diabetes will grow to $9.6 billion—a 92 percent increase from 2010 figures.
Diabetes is a group of diseases in which there is too much glucose in the blood. This occurs when a person's body is unable to use or produce insulin, a hormone, which is key to the regulation of blood sugar levels in our bodies. Diabetes can lead to serious complications, including blindness, heart disease, stroke, kidney failure, lower-extremity amputations and premature death.
Diabetes is a life-altering disease that changes a patient's day-to-day living. Those with diabetes must consider what they eat and at what time, and how and when to exercise. Management of the disease can include frequent monitoring of blood sugar, insulin injections and medications. People with diabetes must also monitor and control their cholesterol and blood pressure, be alert to anxiety and depression, and take special care of their feet.
So what can we, as individuals, do? Fortunately, there are preventive measures we can all take to lower our risk of diabetes. The first step is to be screened and to learn your risk factors. More than 192,000 Washingtonians are believed to have diabetes but are undiagnosed, so encourage your family, friends and neighbors to talk with their primary care doctors about a diabetes screening.
Second, make positive lifestyle choices: eat a balanced diet, be physically active and maintain a healthy weight. Your doctor can guide you in making appropriate changes. Those with elevated risks for diabetes who make modest lifestyle changes can greatly lower their chances of developing diabetes.
Employers should also be alert to the impact of diabetes. In 2007, diabetes was estimated to account for 15 million absent-work days, as well as considerable losses in productivity. The American Diabetes Association (ADA) estimates that the medical expenditures of people diagnosed with diabetes are approximately 2.3 times higher than those without diabetes.
Employers are encouraged to hold health fairs, offer workplace diabetes screenings, make educational pamphlets available and offer healthy snacks. They also can participate in the ADA's fundraising walks to support both research and people living with diabetes.
In addition, another resource is the Living Well Alliance™ program, a program that has been developed by Pacific Medical Centers. The initiative focuses specifically on complimentary work-site diabetes screenings, education and awareness—all part of an effort to turn this epidemic around and start controlling costs. If we each try to take the small steps described above, we can make a big impact on controlling this disease.
Living Well Alliance is a trademark of Pacific Medical Centers.