Have a Healthy Thanksgiving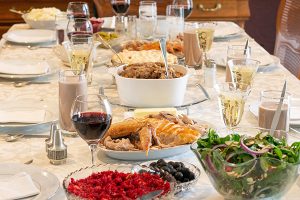 We all look forward to the holidays, getting together with family and friends, and gathering around the table for a great meal. But with the holidays also comes the tendency to throw your normal diet out the window. A typical adult needs about 2,000 calories per day, but in many cases, one plate of Thanksgiving food can have more than half of a day's calories or more. So how can we enjoy our favorite foods on Thanksgiving without completely throwing off our diet and health goals?
Your plate
Whether you are hosting or attending as a guest at Thanksgiving dinner, note the size of the dinner plates. A normal dinner plate today is about 12 inches across; in contrast, dinner plates in the 1960s were only 8 or 9 inches across. We have a tendency to fill the plate or bowl we are given, so choosing a smaller plate at the outset will help maintain portion control.
In addition, serving size is important to keep your holiday meal in check. Sometimes, the serving utensil can actually be bigger than one serving size of the item, so it's helpful to keep other references in mind. A serving size of turkey is about three to three-and-a-half ounces, or about the size of a deck of cards. When dishing out mashed potatoes, keep in mind one half cup serving is about the size of a tennis ball. For the cranberry sauce and gravy, stick to about 2 tablespoons or about the size of a golf ball.
It's also important to keep your plate well-balanced by including protein, vegetables, and carbohydrates. Remember that potatoes and corn are starchy vegetables, and really count as carbs on your plate along with bread, stuffing, and corn bread. If possible, try to add vegetable dishes and lean protein to your plate first so there is less temptation and space to fill your plate with carbs.
Lighten up the classics
Many of the classic Thanksgiving dishes are not the healthiest dishes out there. But there are ways to lighten up some of those favorites by reducing fat, salt, and calories.
Mashed potatoes often include butter or cream to add flavor and create the creamy texture. Instead, use Greek yogurt or skim milk and try adding garlic or rosemary to liven up the flavor. You can even add pureed cauliflower to the mashed potatoes to reduce carbohydrates and boost nutrition value. Instead of green bean casserole, which often calls for butter and heavy cream, try green beans with balsamic glaze or green beans with toasted almonds and lemon.
Thanksgiving dishes can also include quite a bit of sodium. Pre-packaged and frozen turkeys often include added salt, so if you can find it, try a fresh turkey instead. If you have recipes for stuffing or other dishes that call for chicken or vegetable broth, use low-sodium broth. Low-sodium seasoning mixes are a good way to add flavor to your dishes without adding too much salt.
Keep in mind that holiday drinks can also add significant calories to your dinner. If you are an apple cider fan, be sure to factor in those extra carbs into your overall meal. Making your own cranberry sauce instead of using the canned variety is also a great way to reduce some of the sugar content and add flavor to your table.
Incorporate physical activity
Just because Thanksgiving is a holiday, that doesn't mean it's a holiday from exercise! Physical activity doesn't have to be a chore, though. Take your family and friends on a walk or a bike ride on the Burke-Gilman trail. Host a flag football game at Green Lake or in the backyard. Start an after-dinner dance party. Even a 15 to 20 minute walk after dinner will help with digestion and blood sugar control. Anything you can think of that will get you and your family moving will help everyone feel better and encourage healthy behaviors.
Even if you begin Thanksgiving Day with the best of intentions, it can still be difficult to make healthy choices. But by choosing a smaller plate, substituting a few ingredients in classic dishes, and incorporating physical activity into the day, you can ensure a healthy and enjoyable Thanksgiving for yourself and your loved ones!