Test your healthy holiday meal IQ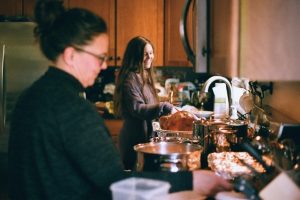 The holidays are quickly approaching and with this season comes some delicious food traditions including holiday parties, cookie exchanges, family meals and homemade treats. Eating healthily during these holidays can prove challenging for even the most disciplined.
Test your holiday food knowledge and learn how to make smarter nutrition choices while celebrating this season!
1. What's your best bet when craving pie?
Answer: Choose pumpkin! Many of us forget, but pumpkin is technically a vegetable, that contains beta carotene – a helpful antioxidant. As far as pies go, one slice of pumpkin pie can count as a half a serving of vegetable – not a terrific amount but most of us fall drastically short on our vegetable servings so I say sneak them in wherever we can! Pumpkin also can aid in weight loss as it's often an overlooked source of fiber that can keep you feeling full longer on fewer calories. Pumpkin pie usually has about 200 fewer calories per slice compared to other pies – so pick pumpkin!
2. What's the healthiest way to make stuffing?
Cook inside the turkey
Bake in a separate pan
Answer: When baked inside the turkey, stuffing absorbs the turkey's fat drippings. Seeing as stuffing often contains high-fat ingredients such as butter, bread, broth etc. – opt for the pan method instead to save on calories and fat. To decrease calories try using low-fat, low-sodium chicken or vegetable broth instead of butter. You can also include healthy additions such as chicken sausage, nuts, celery, diced carrots, apples, or dried cranberries. A new trend to try is "stuffins" or portion controlled stuffing muffins that help you focus on how much food you're actually eating.
3. Which party snack can you eat the most of for the fewest amount of calories?
Cheese straws
Pretzels
Popcorn
Answer: It's hard to believe, but popcorn can be part of a healthy diet! Roughly three cups of air-popped popcorn equals 100 calories. For a comparison, about one and a half cheese straws or about one-half of a sugar cookie have the same calorie count. Popcorn provides whole grains, antioxidants and is a good source of fiber. But beware of toppings. Popcorn balls, kettle corn and caramel corn tend to be very high in fat and sugar and turn popcorn into a high-calorie dessert versus a nutritious snack! For a healthier choice, try toppings such as olive oil, parmesan cheese, garlic or herbs.
4. Which is the leanest potato dish?
Answer: Baked potatoes beat out all the competition as they have the fewest calories and fat. All potatoes are a good source of antioxidants, potassium and vitamin C and a baked potato only has roughly 164 calories. For a healthier mashed potato dish try substituting skim milk for cream or butter. Limit the gravy as a topping and add extra pepper and green onions to boost flavor. Or if you're feeling a little adventurous, try opting for sweet potatoes which have all of the same benefits of a potato plus beta carotene and vitamin A.
5. What is the average weight gain by most Americans over the holidays?
1 to 2 pounds
4 to 5 pounds
7 to 10 pounds
Answer: On average, people gain around one to two pounds from fall to early spring, mostly as a result of holiday eating. Remember that a big holiday dinner isn't going to cause long-term weight gain (just like one day of healthy eating won't do much to help you lose weight.) When it comes to maintaining a healthy weight, focus on what your meals look like on most days and don't beat yourself up on the occasional splurge at a holiday meal. Instead of trying to lose weight during the holidays, aim to maintain and avoid seasonal weight gain by getting in small exercises here and there – perhaps a walk with the family!
Eating healthily during the holidays doesn't have to be a self-defeating effort. Making small changes to your holiday food choices and recipes can help you celebrate and have fun, while still enjoying a healthy holiday season with family and friends.