Tips for International Travel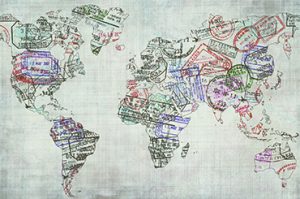 Exploring the world around us is exciting and educational. But nothing spoils a trip like getting sick.
According to the Centers for Disease Control and Prevention (CDC), U.S. residents made more than 68 million trips abroad in 2014. Attacks of diarrhea affect 30 to 70 percent of travelers, while some 20 percent reportedly experience respiratory infections.
Travelers must also consider differences in languages, customs and food, as well as diseases that exist in other parts of the world, such as malaria, yellow fever, Hepatitis A or typhoid, among others.
Traveling to places outside of the United States and Western Europe can be intimidating for someone who hasn't done it before, but preparation can help to lower your risks of getting sick so you can have an enjoyable trip.
Here are a few tips to keep your trip fun and safe.
Know your destination
Obtain all the information you can about where you're headed. Each part of the world harbors its own challenges to consider: climate, altitude, local health issues, food and water, as well as your chosen activities during your stay.
If you learn that your destination has mosquito-borne illnesses, wear long sleeves, long pants and mosquito repellent, especially if you will be out at dawn or dusk.
Check current health advisories from the CDC, which can help inform you about which vaccinations and medications you'll need before your trip.
Bring your health history
A written summary of your health history will be very helpful if you need to seek medical attention while traveling.
Take time to talk with your doctor about any concerns and be sure to understand what conditions you have and what medications you need to take with you. Create a list of your medical conditions, medications and allergies (be sure to note the dosages, the amounts you take and how frequently you take them).
Your doctor can also discuss any vaccines you may need and prescribe travel medications for conditions such as diarrhea or motion sickness.
Take care during air travel
While flying, stay well hydrated and limit the amount of alcohol you drink.
On flights more than three hours, make sure to get up from your seat regularly. This helps reduce the risk of getting a dangerous blood clot from prolonged immobilization.
During flights, try adjusting your body clock to the time zone of your destination. This may mean staying awake during the daytime hours and sleeping during the nighttime hours of your destination. By doing this you will lessen the effects of jet lag.
Eating and drinking
During your trip, enjoy immersing yourself in the culture, but keep in mind that you are not a local. A local person can eat the local fare and not become ill, but your body may react quite differently.
Always look for freshly prepared, hot dishes, especially if you are going to eat from street vendors.
Peel all fruit yourself, and don't eat fruits and vegetables that weren't peeled in front of you or are uncooked.
Many people are very concerned about drinking water. This is a difficult area to address as bottled water makes undue garbage and many tourist areas do have chlorinated water supplies. Bring a water filtration kit for more adventurous trips, and ask at your hotel about the local water quality. Most intestinal illness is related to food preparation, not the water.
Additional precautions
Despite our best efforts to prepare, illness and accidents happen. Know where to get care should you need it.
For people with chronic conditions or serious medical conditions, or for those older than 65, check with your insurance company before your trip about evacuation coverage or travel insurance.
If you received medical care abroad, don't forget to tell your doctor about your recent trip and any new medications you took during it.
Traveling is extremely rewarding. And experiencing other cultures can help open the mind and heart to the beauty and wonder the world holds. In travel, as in the rest of medicine, an ounce of prevention is worth a pound of cure.