What's for lunch at school?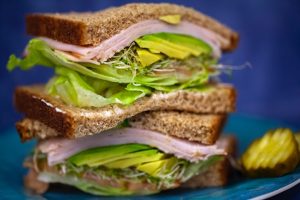 What's for Lunch?
It's that time of year again! Seattle-area kids are back at school, and both parents and kids are busy adjusting to new schedules for the school year. Healthy eating habits in children are important for their well-being, growth and mental development. According to the American Academy of Pediatrics, nearly one in three school-age children and adolescents in the United States is overweight or obese, and only half of all children ages 2 to 17 meet federal diet quality standards. A growing body of evidence suggests that the school food environment plays a key role in influencing childhood dietary behaviors and weight status. Since meals consumed at school often account for half of a child's daily calorie intake, it is important to ensure that students' lunch options are healthy, nutritious and delicious.
Schools work hard to provide students with as much learning time as possible. But that often limits the time available for lunch. According to our state's Office of the Superintendent of Public Instruction, the average time available for students to eat lunch in the public school system is 20 minutes. Even with school schedules restricted by contracts and teachers under increasing demands to boost instruction time, parents can play a powerful role.
So how can parents provide a meal that meets not only nutrition recommendations but also tight time restraints? The key is to keep it simple and practical. Providing lunches that include a good quality protein, fresh fruits and vegetables, and foods that are whole-grain rich will help keep students full, focused and on the go.
Protein
Protein rich foods generally take longer for the digestive system to break down and can help students to stay fuller for a longer period of time. Younger kids often prefer fewer ingredients in a meal, so it's okay to keep things simple. Great sources of simple protein rich foods include hard boiled eggs, deli meats, and dairy products. For sliced meats, focus on lean cuts such as turkey, ham or chicken. Choose low-fat sources for dairy products, such as low-fat string cheese and pre-portioned yogurts. Note that Greek yogurts can contain up to twice the amount of protein compared to regular yogurt. Simple vegetarian protein sources include nuts, seeds, nut butters/spreads, beans, and legumes. So think of including packs of mixed nuts, sunflower seeds, edamame, nut butters, or hummus in the lunch sack.
Fiber
Whole grains, fruits and vegetables provide a great source of not only vitamins and minerals, but also fiber. Fiber is another food component that takes longer for the digestive system to break down and will help students feel full for longer. Providing a variety of fiber-rich options in your student's lunchbox gives choosy kids enough options. When looking for whole-grains, make sure each serving has at least 3 grams of fiber. Whole-grain breads, pita pockets, chips, or tortillas wrapped into a sandwich are simple ways to incorporate these nutrients into your student's meals. To keep fruit and vegetable sources simple, try whole or precut versions like veggie sticks, fruit cups, and sauces like apple sauce.
Pack something frozen
Food safety is an important thing to keep in mind when packing foods from home. It's worth looking into insulated lunch bags and freezable cooling packs to keep your student's food fresh and at the proper temperatures. Local stores such as Fred Meyer and Safeway sell a great variety of these products. To avoid adding extra bulk to lunch box, try freezing water bottles, yogurts or juices the night before to act as a cooling pack that will thaw just in time for lunch.
If you're interested in learning more information and tips like these, make an appointment with a dietitian, nutritionist or your primary care provider.