Doctor uses office to share reading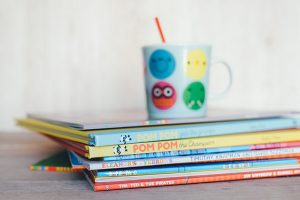 When a Renton doctor decided she wanted to give more to the community, encouraging families to read together seemed like the natural choice.
"There's a large group of people who don't realize that it's important to read to your 6-month-old," said Sonja Maddox, a family physician at Pacific Medical Center.
Five of the clinic's family doctors give books to kids ages 6 months to 5 years a new book during their normal checkup.
The program is organized through Reach Out and Read, a national non-profit that encourages hospitals to do the same thing.
They've participated in the program for two years, giving out 150 books in the past year.
"The younger kids will put the book in their mouth," she said, explaining this reaction often makes parents wonder how it could even benefit children that young.
"It's about spending time with and getting kids excited about books," she said.
Early reading helps with language development, increasing chances of school success.
"Kids who are read to are more school ready and more prepared to like learning," Maddox said.
About 16 percent of children never get read to, and about 23 percent get read to only once or twice a week, according to Reach Out and Read. It's often families living in poverty that don't have access to new books and libraries.
Maddox raised enough funds through grants to support the program without the assistance from the national organization, she said.
Being read to as a child, it seemed only natural to read to her 2-year-old daughter.
"It's something she loves to everyday," Maddox said, adding with a laugh, "She demands it."
Maddox is a local, growing up in South King County and studying medicine at the University of Washington. She's been practicing medicine for 7 years.
When she was studying for her undergraduate degree, she had a friend in college that had a serious tumor, she said. "Her doctors were helping her."
Realizing that she too wanted to help people, she decided to go into medicine.
"I grew up knowing that I could be whatever I wanted to be," she said.
A young doctor, Maddox has been at Pacific Medical for four years, but she loves the amount of charity care the center offers.
"I love the vision and the variety ofpeople I help take care of," she said. "I really like my patients."