Halloween fun during a pandemic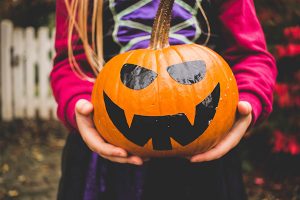 The risks of catching the flu and novel coronavirus this year are spooky enough. PacMed pediatrician Alexander Hamling, MD, shares how to celebrate a safe Halloween at any comfort level.
Mix it up inside
Even though most kids love trick-or-treating door to door, this may be the year to try something different. Why not create a new tradition that keeps your family safely indoors?
Get in the mood by decorating your yard for others to enjoy, similar to putting up holiday lights. Inside, decorate rooms with spooky scenes for an indoor haunted house. Rather than going trick-or-treating, plan for an indoor candy hunt like you might for Easter.
If you want to show off costumes, arrange a virtual party over Zoom. Keep loved ones in mind by making Halloween cards to send to grandparents, cousins and friends. You can also get in the spirit by decorating the front of your house in a scary theme and then settling in for a spooky movie night.
Handing out treats & other traditions
If venturing outside, remember to keep things distanced and in open-air environments. Take the family to a pumpkin patch where people use hand sanitizer, wear masks and stay six-feet apart. Avoid the hayrides or corn maze where you might be in close-quarters with strangers. Carve the pumpkins safely and add to your home decorations, inside or out.
On the big night, avoid big bowls of candy so kids don't root through them in search of a particular treat. Instead, consider spreading out treats along a fence line, or setting up a table in an outdoor space rather than having kids congregate in an entryway where everyone will touch doorbells or door handles.
Post a sign limiting the number of people in your yard at one time, and other instructions for trick-or-treaters. As a host, you can provide hand sanitizer. If you open the door, be sure to put on your mask and eye protection every time.
If you do go trick-or-treating
The CDC recommends not trick-or-treating the usual way this year. If you decide to go out, first take time to assess the risks. The Center for Disease Control and Prevention's (CDC) COVID-19 data tracker can help you determine the risks in your area. By clicking on a particular region, you can learn the total number of cases in a specific county, as well as the number of infections per 100,000 people. Also, consider the health risks present in your household, such as obesity, diabetes, chronic pulmonary conditions (asthma, COPD, etc.), as well as if a member of the household is 65 years or older.
If the kids go out, it's important to have a parent accompany them – regardless of age – to hold them accountable with mask wearing and social distancing. Consider who you will be trick-or-treating with—have they been using safe practices to prevent infection? Keep social distance when walking with those outside your family. Bring your own hand sanitizer to use between homes, and avoid walking in large crowds, busy entry areas or congested apartment buildings until others have left.
Make sure everyone is wearing a protective cloth mask. A costume mask is not a substitute for a cloth mask, and combining the two can make it hard to breathe. Costume masks that cover your eyes and block the field of view should also be avoided. Infection risks and normal hazards, like cars, both need to be seen.
As always, follow the normal rules of safety, such as staying on sidewalks and not crossing the street unless there's a crosswalk. Bring a flashlight and add reflective gear to costumes, such as neon vests, bands or sashes.
Exercising self-control when it comes to candy has many health benefits, beyond just limiting sugar intake. There's a lot that's still unknown about surface transmission of the virus, so before digging in to your haul, wipe down pieces and wash your hands, or let the candy sit for a week to kill off any potential virus.
This year's Halloween may be unlike any other, but with a little extra care and imagination you can limit the scare to only one night, and make it a safe and memorable one.
Learn More
Alexander M. Hamling, MD, MBA, FAAP, provides care as a pediatrician out of PacMed's Canyon Park clinic. Read more about him, or call 425.412.7200 for an appointment.
Find out more about our Pediatricians
Alexander M. Hamling, MD,MBA,FAAP
Elisabeth Ware, MD