Back to basics: Parents, don't delay your child's care!
A PacMed pediatrician encourages families to keep their children's health care current, on track.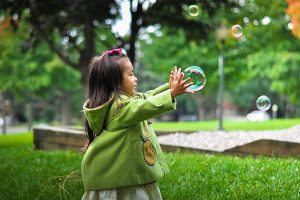 With COVID-19 upending our lives, many parents have put their children's regular health care on hold, delaying well-child exams, screenings and immunizations. But health matters. Parents ask me, How do I keep my family healthy? How do I manage if a new health issue arises? Your primary care provider can help you reset and move forward.
Get up-to-date with immunizations
The Centers for Disease Control (CDC) reports that many children are currently missing vaccinations (also called immunizations). This puts them at risk for preventable diseases, like whooping cough, scarlet fever, mumps and measles. Many of us aren't familiar with these age-old childhood diseases! That's because safe and effective vaccines for them have been used by families for decades, and outbreaks today are unusual. But that can change if we don't keep up on childhood immunizations.
Of course, parents want their children to be protected from diseases. So how do you catch up? A good first step is to contact your primary care provider. They can help get your family back on track and answer your questions about immunizations for children and teens.
Check in for well-child checkups
These appointments are important because children develop so rapidly from age zero to 5, and then into their teens. Regular checkups help ensure early recognition of issues—which leads to early interventions and better outcomes.
During COVID-19, you can still schedule appointments for well-child visits and developmental screenings. These exams occur every few months during the first year, once or twice up to age 2, and then every year thereafter. You can learn more about the schedule of regular childhood visits at PacMed. Immunizations can be done during well-child visits.
Balance mental and physical health
Keeping our families fit, both physically and mentally, is an ongoing challenge these days. What's important? How about the 4 S's—
Help kids manage screen time: Set limits, choose "time out" times for devices, model good behavior.
Focus on getting enough good-quality sleep, for everyone. 10 hours for teens and tweens, more for toddlers, 7-8 for adults. Learn more about sleep.
Make dinnertime a welcome retreat for sharing, laughing, understanding
Sweating! Keep up your family's outdoor time: neighborhood stair climbs (Seattle, Kirkland), walks and hikes, snowshoeing, jumping rope. Change things up with sports like tennis or ultimate Frisbee.
Get a flu shot—it's not too late
The CDC reports that less than half of children overall had been vaccinated for the 2020–21 flu as of December. The flu shot is the best way to protect your family, which is extra valuable this year.