Give Back and Build Strong Communities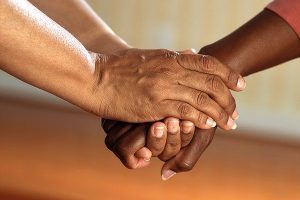 Giving back to those around you is a wonderful way to build community. Donating your time or providing supplies to those in need can also remind us of the power of doing good, sharing life's burdens and spreading joy. It can also be a low-cost and powerful antidote to the pressures of consumerism.
Our local communities need your gifts of creativity, energy, support and caring. Make it a team effort! Pull together family and friends and pick a project, big or small.
Shop (or sew or craft!) for patients at Seattle Children's hospital.
Your thoughtful gift helps young patients and their families when they need it most.The Toy & Items for Patients web page gives all the details. Can you sew a flannel blanket for an infant? Want to shop for preteens? Look for links under the "Our Greatest Needs" section. The web page also gives details about wrapping (don't!), donation drop-off, and other ways to give. Short on time?
Help your children learn the joys of giving, with Toys for Tots.
This is a wonderful way to teach generosity and help children get involved. Run by the US Marine Corp Reserve, Toys for Tots has several ways to donate toys. They ask for new, unwrapped toys and get them to families who can't afford gifts. Find a local program or check out the Toys for Tots Native American Program.
Support youth in foster care—academic resources, clothing extracurricular fun.
Treehouse provides academic and other essential support for 7,000+foster kids throughout Washington State each year. Besides investing in their academic future, Treehouse helps them try to fit in and feel comfortable with clothing that suits them and resources to take part in extracurricular activities. You can donate time, money, supplies or host a drive – see the Take Action page!
Collect donations for a food bank—or help sort, label and prep food!
Food banks distribute food to people in need. Make it a group activity with family or friends. Either donate time on an afternoon, or do a group shopping and donate needed food. Check the food bank's website for acceptable, needed items—including non-food items. Sample items include packaged whole-grain foods, canned vegetables, low-sodium broth and low-sodium canned meats or fish.
Search an online map for "food bank" and give them a call. Or try one of these:
Food Lifeline (numerous sponsored food banks throughout Puget Sound region) • Nourish Pierce County (formerly FISH Food Banks) • Kent Food Bank • Rainer Valley Food Bank • North Helpline (NE Seattle) • HopeLink (Eastside, Shoreline, Sno-Valley) • Lynnwood Food Bank • Mill Creek Food Bank
Thanks for sharing your energy and joy with others! Knowing you are giving helpful and even fun gifts to those who need them most can be very fulfilling.