Tips for Healthy Holiday Eating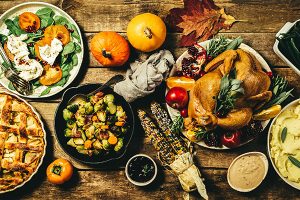 Well, hello holidays! As we approach winter's many holidays, now is a good time to think about how to savor those special meals—while saving our waistlines at the same time.
You know what November and December mean: winter holidays and festivities. And right alongside these activities come a plethora of delicious food traditions: festive parties, cookie exchanges, exquisite desserts, once-a-year beverages, family meals and homemade treats.
Eating healthily during the winter holidays can prove challenging for even the most disciplined among us. But you can still celebrate while eating better and having fun. Try these tips.
Choose pumpkin pie. Pumpkin contains beta carotene, a helpful antioxidant. Pumpkin is also technically a veggie, and one slice can count as a half-serving of your daily recommended amount of vegetables. Finally, a slice of pumpkin pie usually has about 200 fewer calories than other pies, such as apple. This is mostly thanks to pumpkin pie not having a top crust.
Cook stuffing separately. When baked inside the turkey, stuffing absorbs the turkey's fat drippings. Cook it in a pan, and you save on calories and fat. Other ways to cut calories are to use low-fat, low-sodium chicken or vegetable broth instead of butter … swap the bread for a higher-fiber, higher-protein option like wild rice … and replace the giblets, bacon and pork sausage with chicken sausage, nuts, celery, diced carrots, apples or dried cranberries.
Eat popcorn—but keep it healthy. Yes, popcorn can be a good snack in a healthy diet! It's whole grain and a good source of fiber. Roughly three cups of air-popped popcorn equal 100 calories. (That's about equal to one and a half cheese strings or one-half of a sugar cookie.) To keep things interesting, add toppings such as drizzling olive or canola oil, parmesan cheese or herbs such as rosemary, garlic or dried basil. But avoid too many popcorn balls, kettle corn or caramel corn.
Baked potatoes. Potatoes are a good source of potassium and vitamin C. Instead of mashed or scalloped potato dishes, go for the baked potato; it contains fewer calories and fat. If you do have mashed potatoes, substitute skim milk for cream or butter or add in plain yogurt in exchange for sour cream. Then, limit the gravy and add extra vegetables like peppers and green onions to boost flavor.
Making these small changes can help you to alleviate stress and enjoy a healthy holiday season with family and friends. Don't beat yourself up over the occasional splurge. Just keep your focus; instead of trying to lose weight during the holidays, aim to maintain and avoid seasonal weight gain.