Rainbow salad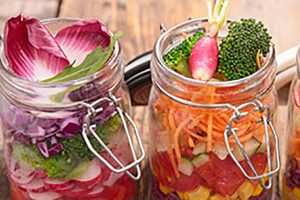 I enjoy recipes that are flexible with ingredients you already have in your kitchen—and most of these ready-to-go mason jar salads are no exception.
Tips: Use a wide-mouth, 16-ounce mason jar (or other tall glass or plastic container with tight lid).
Put the dressing in first, to avoid a soggy salad.
Pile in individual ingredients, in the order listed—hardy vegetables or proteins on the bottom, delicate leaves and seeds on top.
You can store the salad for 1-2 days.
When ready to eat, shake and tumble jar until contents are mixed, and enjoy! Eat it straight from the jar (great for a picnic!) or pour into a bowl.
Serves:
1
Prep Time:
20 Minutes
INGREDIENTS
3 Tablespoons balsamic dressing (store bought or mix 1 T of balsamic vinegar, 2 T olive oil and ½ teaspoon Dijon mustard)
¼ cup chickpeas
2 Tablespoons yellow pepper, diced
2 Tablespoons chopped broccoli
2 Tablespoons cucumber, diced
¼ cup blueberries
¼ cup cherry tomatoes, halved
2 Tablespoons orange pepper, diced
1 cup salad greens of your choice
1 Tablespoon sunflower seeds
1 Tablespoon parmesan cheese, optional
DIRECTIONS
In a 16-ounce mason jar, layer ingredients in the following order: dressing, chickpeas, pepper, broccoli, cucumber, blueberries, tomatoes, orange pepper, greens and toppings.

To achieve a rainbow, layer the vegetables in color order, going from yellow (the pepper) to green (broccoli and cucumbers) to blue and red (blueberries, tomatoes) and so on.

Screw on lid and refrigerate.

When ready to eat, shake jar until contents are mixed and enjoy.