Recipe: Camping Quesadilla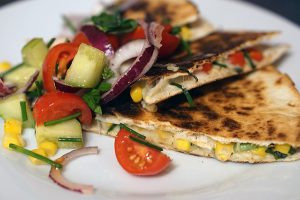 Eating healthy while camping can be a challenge since most nutritious foods tend to need refrigeration. Being a regular camper myself, I've learned some tricks to packing a cooler with vitamin-rich foods. 1) Choose hardy vegetables that last longer such as carrots and dark leafy greens like kale, broccoli and collards. 2)Put all foods in sealed plastic baggies or water-tight containers, including precooked meats, cheeses and dips like hummus. 3) Avoid taking raw meats (or eat them at the beginning of your trip to avoid contamination). 4) Layer your drinks at the bottom making a flat shelf for the foods on top. 5) Be prepared to restock ice halfway through your trip to prevent food borne illness. —PacMed dietitian Christy Goff, RDN
Who wants to make a four-course, fresh meal in the woods?! Try this simple, vegetable-laden quesadilla, being sure to keep perishable ingredients chilled until dinnertime. For even simpler preparation, precut/prechop vegetables, measure and store together in a sealed container or baggie. Consider adding a salad or carrot sticks!
Serves:
2
Prep Time:
20 minutes (includes marinating time)
Cook Time:
15 minutes
INGREDIENTS
2 teaspoons olive oil
¼ onion, finely chopped
¼ cup broccoli, finely chopped
3 button mushrooms, sliced thinly
2 large whole wheat tortillas
2 tablespoons refried black beans
½ cup shredded cheese, perhaps a cheddar blend
½ cup of precooked shredded chicken
½ cup guacamole
Homemade guacamole:
1 avocado
Juice of ½ lime
Salt and pepper to taste
Optional: red pepper flakes, diced tomato, garlic powder
DIRECTIONS
On camping stove, place heavy frying pan over medium heat and add oil. Add onion, broccoli and mushroom and sauté until golden brown and starting to wilt, about 6 minutes. Remove vegetables to bowl and set aside. In frying pan, add one tortilla and spread with refried beans. Sprinkle half (¼ cup) of the cheese on top and add cooked vegetables, chicken and remaining ¼ cup of cheese on top. Place second tortilla on top and cook 3-4 minutes. To flip quesadilla and cook other side, place a plate over the quesadilla in the pan and flip the pan over, placing the quesadilla onto the plate. Now slide the quesadilla off the plate and into the pan. (This maneuver tends to keep the quesadilla from falling apart!) Cook another 3-4 minutes until cheese has melted and tortilla is lightly browned. Serve with guacamole.
NUTRITIONAL INFORMATION
per Serving (1/2 recipe)
Calories: 398, Total Fat: 23g, Sat. Fat: 7g, Cholesterol: 48mg, Sodium: 680mg, Total Carbohydrate: 34g, Dietary Fiber: 7g, Sugars: 0g, Protein: 22g