Recipe: Chicken Skewers with Raita
These fast-cooking chicken skewers are marinated in yogurt and coconut milk, and then served with a zesty yogurt-based sauce.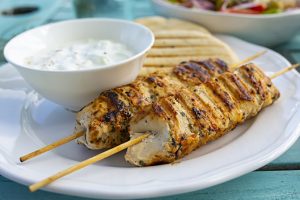 INGREDIENTS
1 cup fat-free plain yogurt, divided
1/3 cup reduced-fat coconut milk, divided
2 tsp. curry powder, mild or hot
1-2 pressed garlic cloves
1/2 tsp. salt, divided
1 Tbsp. olive oil
1 lb. skinless, boneless chicken breast
12 (bamboo skewers, about 8 inches long
Cooking spray oil
2 Tbsp. finely chopped white onion or scallion
2 Tbs. chopped fresh cilantro
2 Tbsp. chopped fresh mint
1/8 tsp. ground cumin
1 tsp. lime juice
DIRECTIONS
Prepare the chicken: In a shallow, rectangular baking dish, combine 2 tbsp. of yogurt with 2 tbsp. of coconut milk, curry, garlic and 1/4 tsp. salt. Blend in oil.

Cut chicken into one-quarter-inch strips, across the grain when possible. Thread a chicken strip lengthwise onto skewer. Repeat with all chicken. Place skewers in curry marinade and use a brush to coat evenly. Cover and refrigerate 1 hour at minimum, or up to 8 hours.

Remove chicken skewers to paper toweling and blot dry, removing excess marinade. Choose a large skillet that can hold skewers, or a stovetop griddle. Heat over medium-high heat, and then coat with spray oil. Arrange skewers in a single layer in pan and cook for 2 minutes, browning chicken. Using tongs, turn skewers and brown on another side, 2 minutes. Turn chicken and cook until it is opaque and cooked through at thickest part of chicken and near skewer. Transfer to serving plate.

Meanwhile, prepare the raita: In bowl, combine remaining yogurt and coconut milk with onions, cilantro, mint, cumin lime juice and remaining salt.

Serve hot chicken with a raita in a bowl with spoon.
NUTRITIONAL INFORMATION
per serving (1/4 of recipe):
Calories: 220 Total fat: 8 g Saturated fat: 1.5 g Cholesterol: 85 mg Sodium: 345 mg Carbohydrates: 5 g Dietary Fiber: 1 g Sugars: 3 g Protein: 32 g
Recipe adapted from American Cancer Institute Research.