Recipe: Parmesan Roasted Snap Peas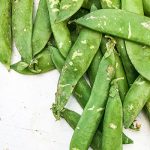 This simple and tasty recipe is the perfect introduction to spring! Whether you grow your own peas or buy them at the store, roasted snap peas are a great side dish or healthy snack. They taste good hot or cold.
Serves:
4
Prep Time:
20 minutes
INGREDIENTS
1 pound sugar snap peas
1 tablespoon olive oil
1/4 cup shredded Parmesan cheese
1/8 to 1/4 teaspoon salt, to taste
1/4 teaspoon pepper
DIRECTIONS
Preheat oven to 350 degrees F.

In a large bowl, combine the snap peas, oil, cheese, salt and pepper. Toss to combine.

Spread the snap peas on a baking sheet and bake for 15 minutes.
NUTRITIONAL INFORMATION
Serving Size: One-fourth of recipe
Total Calories 105, Total Fat 5g, Saturated Fat 2g, Cholesterol 8mg, Sodium 280mg, Carbohydrate 5g, Dietary Fiber 3g, Natural Sugars 6g, Protein 6g, Potassium 213mg
Recipe from Food and Nutrition Blog by Natalie Rizzo, RDN, 2018.