Recipe: Pomegranate Salsa with Salmon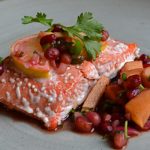 This cancer-fighting recipe includes healthy fats, antioxidants and lots of flavor. Never had pomegranate molasses before? It's a unique combination of sweet, sour and salty that can be used in other Mediterranean-style dishes like dips, salad dressings, cocktails and sauces.
Note: Prepare quick pickled onions and salsa 1 hour to 1 day in advance. This allows these condiments to get good flavor, and it makes dinner preparation go very quickly! If you're short on time, use raw red onion in place of the quick pickled onions described below.
INGREDIENTS
1 lb. salmon filet
1 lemon, thinly sliced
Quick pickled red onions:
1 red onion
2 cups very hot (but not boiling) water
½ cup rice or white-wine vinegar
1 cup cold water
2-3 tablespoons white sugar
5 peppercorns
¼ teaspoon red pepper flakes
¼ teaspoon salt
Pomegranate salsa
1 cup pomegranate arils (seeds), fresh or frozen
½ apple, finely chopped
1 tablespoon pickled red onion (see below), chopped
2 teaspoons jalapeno pepper, finely chopped
2 teaspoons pomegranate molasses* or 2 tablespoon pomegranate juice
¼ teaspoon salt
Freshly ground black pepper
¼ cup chopped cilantro
DIRECTIONS
Prepare quick pickled onions 1 hour (or up to a few days) in advance. Cut onion in half, remove peel and slice into very thin half-moons. Place in a bowl, add hot water and let sit 1 minute. Drain onions. Add vinegar, cold water, sugar, peppercorns, pepper flakes and salt, and stir to dissolve sugar. Cover and chill for at least one hour.

Preheat oven to 350 degrees F.

Prepare salsa. In medium bowl, use fork to combine pomegranate arils, apple, onion, jalapeno, pomegranate molasses and 3-4 grinds pepper. Mix in cilantro. Let salsa sit for 10 minutes so flavors can meld. Here's the easy way to remove pomegranate arils.

Place salmon on a baking sheet and top with lemon slices. Bake fish for 10-15 minutes, depending on the filet's thickness, until internal temperature reaches at least 145 degrees F.

Serve salmon with salsa and pickled onions.
Salsa keeps for 2 days, tightly covered in refrigerator. It also goes well with chicken, turkey, pork chops or grilled shrimp. Sprinkle over green salad, combine with cooked quinoa or add a spoonful to garnish a bowl of butternut squash soup.
*You can buy pomegranate molasses online or in specialty stores like Whole Foods or PCC Markets.
Recipe adapted from the American Institute for Cancer Research; Dec. 30, 2014, Issue 537.