Recipe: Savory zucchini-egg breakfast muffins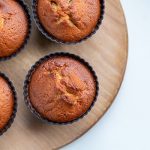 Summertime means a plethora of fresh vegetables from the store, farmer's market or your own garden. Zucchini is affordable and delicious, and it compliments most meals. Try it in these breakfast muffins!
Serves:
12 muffins
Prep Time:
15 minutes
Cook Time:
30 minutes
INGREDIENTS
Cooking spray, such as canola or coconut oil
3 cups grated zucchini (2 medium zucchini)
⅛ teaspoon salt
½ cup chopped onion
1 teaspoon extra-virgin olive oil
7 eggs, beaten
¼ cup milk (or milk alternative)
2 tablespoons fresh rosemary or other herb
½ cup rolled oats
½ cup grated manchego or cheddar cheese (optional)
Salt and pepper, to taste
DIRECTIONS
Preheat oven to 350°F. Coat muffin tin with spray oil.

Place grated zucchini in a strainer and sprinkle with ⅛ teaspoon salt and let sit 5 to 10 minutes. Squeeze excess water out of zucchini; this prevents the muffins from being soggy.

Sauté onion in olive oil for 2 minutes over medium heat. Then allow to cool.

In a medium bowl, whisk eggs and milk. Add zucchini, onion, rosemary, oats, optional cheese, and salt and pepper to taste. Stir until combined.

Pour mix into muffin cups. Bake for 25 to 30 minutes or until lightly golden.

Note: These muffins can be stored in the fridge in an airtight container for up to 4 days. Just pop a muffin in the microwave for 20 seconds to reheat.
NUTRITIONAL INFORMATION
Serving Size: Two muffins
Calories 230, Total Fat 12g, Saturated fat 5g, Cholesterol 230mg, Sodium 565mg, Potassium 400mg, Total Carbohydrates 16g, Dietary fiber 2g, Sugars 5g, Protein 14g
Recipe from Nutrition.org by Macha Davis, MPH, RDN.