Recipe: Soothing Miso Soup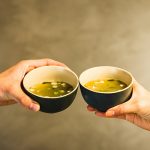 Easy miso soup is full of healing vegetables and probiotics to help ward off winter illness. Any type of miso paste works; yellow or white offer a mellower taste, while red is the boldest, saltiest flavor.
Serves:
4
Prep Time:
20 minute
INGREDIENTS
4 tablespoons low-sodium miso (a fermented soybean paste, found in the refrigerated case at most grocery stores, preferably lower salt like Organic Miso Master)
4 cups water, divided as 3½ cups + ½ cup
1 tablespoon olive oil
½ cup shitake mushrooms, sliced
1 teaspoon dried wakame (an edible seaweed), chopped
½ block soft tofu, cut into ½" cubes
2 green onions, sliced
Bean sprouts, sesame seed and toasted sesame oil for garnish
DIRECTIONS
In a bowl, whisk miso into ½ cup warm water and stir until diluted. Set aside.

Heat olive oil in a frying pan on medium heat. Sauté mushrooms 3-5 minutes, or until lightly browned.

While mushrooms cook, bring 3½ cups water to a simmer in a large saucepan.

To saucepan, add mushrooms, wakame, tofu and green onion. Heat throughout.

Add miso and water mixture to pot of water and vegetables. Note:To avoid damaging the probiotics in the miso, be careful to not bring soup to a boil.

Transfer into a serving bowl. Add desired amount of bean sprouts and sesame seed, plus a few drops of toasted sesame oil.
NUTRITIONAL INFORMATION
Per serving:
Calories: 120Fat: 6 gSodium: 180 mgCarbohydrate: 8 gFiber: 2 gProtein: 7 g
Recipe adapted by Christy Goff, RD, CD
More recipes online! Go to www.PacMed.org/recipes.