Recipe: Spring Peanut Pad Thai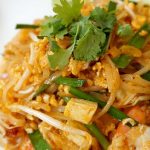 Celebrate spring with this delicious variation of the favorite noodle dish Pad Thai. This recipe uses fresh herbs like scallions and cilantro with spring asparagus and peas. Pair this with the ginger-peanut sauce, and it will shortly be a go-to meal for the family.
Serves:
6
Prep Time:
15 minutes
Cook Time:
6 minutes
INGREDIENTS
8 ounces flat rice noodles (brown rice preferred)
1 tablespoon canola oil
⅓ cup scallions, chopped, including white and green parts
2 cloves garlic, minced
2 large eggs, lightly beaten
8 ounces trimmed asparagus, cut into 1-inch pieces
1 cup frozen peas (or fresh if available)
2 tablespoons lime juice
½ cup roasted peanuts, lightly salted, roughly chopped
¼ cup cilantro, chopped
Sauce
¼ cup low-sodium creamy peanut butter
1 tablespoon grated fresh ginger
2 cloves garlic, minced
1 tablespoon brown sugar
3 tablespoons rice vinegar
3 tablespoons reduced-sodium soy sauce
1 tablespoon sesame oil
¼ teaspoon crushed red pepper flakes
¼ cup hot water
DIRECTIONS
Prepare rice noodles according to package instructions. Pour noodles into a colander, rinse well and let drain.

Meanwhile, make sauce by whisking peanut butter, ginger, garlic, brown sugar, rice vinegar, soy sauce, sesame oil and crushed red pepper flakes in a medium bowl.

Slowly whisk in hot water and stir until sauce is blended. Set aside.

In a large wok or frying pan with tall sides, heat canola oil over medium heat. Add scallions and cook until fragrant, 1 to 2 minutes. Add garlic and cook for 30 seconds. Pour in eggs and stir to scramble for about 2 minutes or until soft. Add asparagus and peas and cook for 3 to 5 minutes, stirring often, until asparagus is tender.

Add drained noodles and sauce and cook for 1 to 2 minutes, tossing until the liquid has been absorbed. Stir in lime juice.

Transfer cooked noodles and vegetables to a large platter or bowl and garnish with peanuts and cilantro. Serve immediately.
NUTRITIONAL INFORMATION
Calories 232
Total Fat 3 g
Sat Fat 1 g
Cholesterol 188 mg
Sodium 227 mg
Total Carbohydrate 24 g
Dietary Fiber 3 g
Protein 25 g
Recipe from Food and Nutrition Blog at https://foodandnutrition.org/march-april-2016/spring-peanut-pad-thai/©Feb 2016.