Recipe: Strawberry goat cheese bruschetta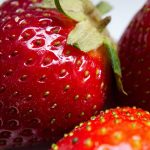 Late May and June are the true season of strawberries in the Pacific Northwest! Enjoy them at their sweetest and cheapest—and paired with savory and creamy goat cheese on toast. Feeling adventurous? Find a local farm where you can pick your own at www.pickyourown.org.
Serves:
4
Prep Time:
15 minutes
INGREDIENTS
1 French baguette, cut in 1/2-inch slices
1 cup chopped strawberries
2 tablespoons chopped fresh basil
1 tablespoon olive oil
1 tablespoon balsamic vinegar
5 ounces goat cheese (one small log)
Alternative Ingredients
Instead of baguette, use gluten-free bread or cucumber slices
Swap out strawberries for blueberries as they come into season
Use mozzarella or brie instead of goat cheese
DIRECTIONS
Preheat oven to 375 degrees. Place baguettes slices on baking sheet and bake for 5 minutes. Meanwhile, stir together strawberries, fresh basil, olive oil and vinegar.

Spread goat cheese on baguette slices. Spoon strawberry mixture on top. Serve immediately.
NUTRITIONAL INFORMATION
Calories 166, Total Fat 11g, Saturated Fat 6g, Cholesterol 16mg, Sodium 204mg, Total Carbohydrate 9g, Dietary Fiber 1g, Sugars 3g, Protein 3g
Recipe from Gather for Bread by Melanie Kathryn.