Reconnect with OneMoreQuestion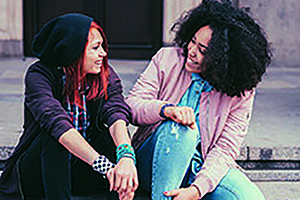 If you've ever been depressed, you know how easy it can be to hide it. People struggling with mental health can walk through the world with a smile and a "Fine," hiding a sometimes-serious need for help.
PacMed created the #OneMoreQuestion campaign in 2019 after one of our primary care providers followed her intuition and gave a teenage patient a depression screening at the end of the family's doctor visit. When asked, the young man revealed he had planned to end his life that night. Because of one more question, we were able to connect the teen and family to resources and support.
The example of this doctor is something we can all emulate in our daily lives— to be more present when checking in with friends, acquaintances or even strangers.
We all "need to be seen and heard in an honest way," said PacMed co-chief of primary care, in an interview last year with Seattleite. "We may not have all of the answers or be able to solve someone else's problems, but we can listen. This simple act can drastically change someone's outcome or perspective during a hard time in their life."
Mental health issues will affect one in five Americans during their lifetimes. Chances are someone you know is affected right now. Not sure what to ask? Here are some ideas:
I really want to know: how are you feeling today?

You don't seem like yourself. Is there anything you'd like to talk about?

Are you feeling down? Would you like to talk?
"Big or small, these acts can bring a sense of caring into someone's darkest times. One more question can have a profound, positive effect on which path someone takes when struggling," said PacMed co-chief of primary care. By talking openly about mental health, we help break down the stigma around it.
Your primary care doctor can help identify resources and support systems. They also can refer you to a licensed mental health provider. In most PacMed clinics, we have behavioral medicine therapists right down the hall from your primary care doctor.
When things get busy this year, remember to slow down and find an opportunity to ask one more question. You never know how healing that simple act might be.
RESOURCES…
Emergencies: 9-1-1 or the ER
24-hour crisis lines:
King: 1.866.4.CRISIS
Snohomish: 1.800.584.3578
Pierce: 1.800.576.7764
Local support: 2-1-1
Anonymous screening: HelpYourselfHelpOthers.org.
Suicide prevention lifeline: 1.800.273-8255
PBS NewsHour, "I Got Your Back"