Spring into Action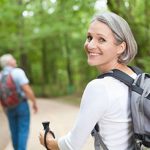 Thank goodness spring has sprung, yes? We can stop climbing the walls, wishing for warmth and daylight, and finally get outside and MOVE those limbs!
Be sure to ease into new activity, stretching before and after and increasing your activity level with each outing. You'll want to hydrate and fuel your body with healthy proteins and fruits and vegetables. Feeling a bit out of shape or have other health concerns? Be sure to talk with your primary care provider.
Some ideas for spring activity:
Dig in—Now's the perfect time to start preparing a vegetable garden. Weeding and pruning are excellent exercise too.
Dig out—It can be hard to garden when you can't find your tools. Choose a sunny day to clear out your shed, reorganize your deck's closet or sweep out the garage.
Connect—Outdoor time shouldn't all be work, of course. Grab the family or some friends and pick a park for a walk or game of catch. Aren't we lucky? Our region has some amazing green spaces to explore!
Tune out—Check community boards and neighborhood gyms for outdoor classes in yoga, tai chi or "boot camp." It's never too early to spread your toes in the grass.
Still working out the kinks? The PacMed Physical Therapy department can help. And if you are looking for a primary care provider, check out our Primary Care team. We have nine neighborhood clinics.