eCheck-In for All launching July 20
Effective July 20, patients with and without a MyChart account can use eCheck-In prior to their appointment.
Why is it Important?
eCheck-In is helping to ease the way of patients by creating a more seamless experience that complements the online scheduling process.
Registering on a computer or mobile device at home or on the go saves our patients stress and time the day of their appointment.
Online registration reduces exposure between patients and staff.
What is eCheck-In?
We now offer eCheck-In to allow patients to check-in online prior to an outpatient visit. Patients can use their computer or mobile device to complete the following prior to arriving for their appointment:
Complete/review personal demographics
Request changes, additions, or removals of clinical data, such as medications, allergies, and "health issues"(aka problems)
Verify their guarantor
E-sign a consent to treat
Pay a co-pay and/or account balance
What messages will I receive?
PacMed eCheck-In messages will be sent from Providence:
Mobile view (texts)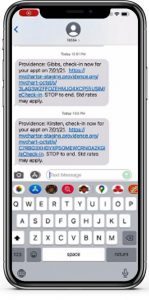 Web view (email)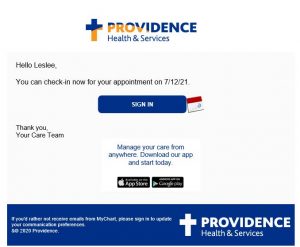 We look forward to making your next visit even easier with eCheck-In!