Heart advice helps women stay "on top"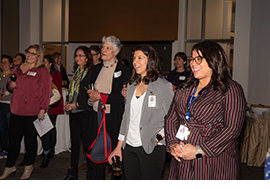 BEACON HILL—At last quarter's Women on Top networking happy hour, held in PacMed's beautiful panoramic room overlooking the city, our Cardiologist Dr. Pathmaja (Bobbie) Paramsothy shared how women can take precautions against their risk of death from heart disease and stroke.
The resonant message was warmly received by the audience, so we thought we'd share the scoop here through an exclusive Q&A session!
Are women more likely to have heart disease in their lifetime than men?
Women, now, have a higher prevalence of strokes than men. Men still have a higher prevalence of heart disease, but heart disease is the number one killer of both men and women in the United States.
We've heard women can have different symptoms then men—what should we look for? (Listen up, ladies!)
Any discomfort in the chest/neck/jaw/left arm that occurs with exertion especially could be a sign of heart disease. Feeling your heart beat irregularly or fast, feeling lightheaded at random times or when exercising, unusual shortness of breath could all be symptoms.
If you are unable to walk up a flight of stairs without significant shortness of breath, this could be a sign of heart disease or lung disease. New and significant fatigue could also be a sign of heart disease. These are not the only symptoms but these symptoms should prompt medical attention.
Women may have more atypical symptoms but overall men and women both can have "classic" symptoms or atypical symptoms. Women's symptoms may not be recognized as quickly.
What can women proactively do for better heart health?
Eating a healthy diet, such as the "Mediterranean Diet" and specifically avoiding simple carbohydrates, sugar, saturated and trans fats and excess sodium are important.
Exercising regularly is also very important, but if you have unusual symptoms exercising, see your doctor first to make sure it is safe to exercise. It's also good to check that you do not need testing prior to engaging in an exercise program.
Know your numbers: Get your blood pressure, blood sugar and cholesterol checked and treated.
Learn your family history, decrease unwanted stress, and get good sleep.
How important are lifestyle choices towards better heart health?
Lifestyle choices are extremely important to good health. Prevention is the first step and eating a healthy diet, getting regular exercise, good sleep, maintaining a healthy weight, and good social support all promote good health.
When should I see a cardiologist? How do I find the right one?
Your primary care physician is the best resource to determine if you need a cardiologist. They will know who they trust and like to refer their patients. You want your cardiologist to be board certified and up to date on medical credentialing.
Dr. Paramsothy, also known as Dr. Bobbie, has been practicing for 13.5 years and received her training at the University of Washington (Go Huskies)! Dr. Paramsothy has limited clinic availability, but someone from the PacMed Cardiology Team will be happy help if you have further questions or concerns.
Women on Top is a quarterly social gathering for professional female and gender-diverse people at spectacular venues high above the Seattle skyline, organized by the Greater Seattle Business Association (GSBA). PacMed is a longtime Gold Sponsor of the GSBA, and sponsor of the Women on Top series.
The next Women on Top event will take place Thursday, May 9, from 6-8 pm at Fran's Chocolates in Georgetown, and will feature a nonprofit spotlight on the Urban League. Tickets sell out fast—visit thegsba.org/events to register.