PacMed pilots Lumedic for vaccine records on your phone
Pacific Medical Centers (PacMed) is piloting Lumedic Connect with select clinics. Lumedic Connect is a mobile app that lets patients securely store a digital record of their COVID-19 vaccination on their smartphone. Patients can share their record with any organization, business, or healthcare system using the app to verify health information.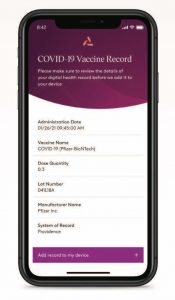 Lumedic Connect in Action
HERE IS HOW THIS PILOT WORKS:
PacMed is emailing select patients who have a COVID-19 vaccination record in your PacMed health record.
The email will have a link you can use to sign up for Lumedic Connect.
On the Lumedic website, you will input your information to look up your record.
You will then receive a text message with the invitation to download Lumedic Connect.
Once you have downloaded and installed the app, you will get a digital record of your vaccination on your phone.
Benefits of using Lumedic Connect
You can't lose or damage a digital record like you can a paper card.
You have control of your health information.
You can share your record when you choose.
Who is Lumedic?
Lumedic is a healthcare technology company and creators of the first healthcare vaccine pass. With data security at its core, Lumedic improves the patient experience by allowing patients to own and control their health data.