Holiday Pot Roast with Seasonal Vegetables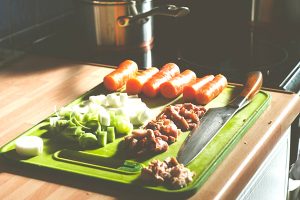 This great-tasting roast (just a little meat and lots of vegetables) will be sure to knock the sock off your guests!
Serves:
4
Cook Time:
3 hours
INGREDIENTS
2 pounds organic chuck roast
Salt and pepper
3-4 Tbsp extra virgin olive oil
1 large onion
2 stalks celery, diced
1 Tbsp fresh thyme*
1 Tbsp fresh marjoram*
1 Tbsp fresh rosemary*
2 c beef broth
2 c red wine
2 large carrots, cut in chunks
1-2 parsnips, cut in chunks (can be replaced with more carrots)
3-4 small potatoes, cut in chunks
10-12 Brussels sprouts
DIRECTIONS
Preheat oven to 350˚ F.

Season chuck roast liberally with salt and pepper. Use at least 2-3 teaspoons of salt (more or less depending on how salty your beef broth is).

Heat 1-2 Tbsp olive oil to heavy 4-quart pot. When hot, add roast and brown on all sides. Remove roast from pot and set aside.

Add a little more oil, then half of the onion, chopped, and celery. Sauté until onion is caramelized. Then add thyme, marjoram and rosemary (or with dried, use 1½ Tbsp).

Return roast to pot, cover with broth and wine, and bring to a boil. Remove from heat. Cover pot and cook in oven for 2 hours.

When roast is quite tender, add remaining half onion, cut in chunks, and the carrot, parsnips and potatoes. Salt vegetables. Continue roasting for another 30 minutes until vegetables are tender. Add Brussels sprouts and roast for about 10 minutes longer, until they are tender.

*You can replace the three fresh herbs with a dried Italian spice mix.
NUTRITIONAL INFORMATION
Nutrition Information: Serving size = 1/4 of Pot Roast Calories: 480 Fat: 27g Saturated Fat: 8g Carbohydrates: 19g Sugars: 5g Sodium: 390mg Fiber: 5g Protein: 29g
Recipe adapted from www.minimalistbaker.com