Spicy Buffalo Tofu with Cauliflower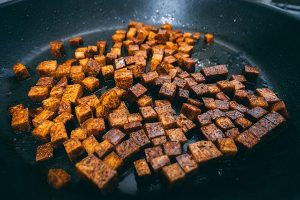 Serves:
2-3
Prep Time:
15
Cook Time:
30
INGREDIENTS
1/2 of 15-oz. package tofu, sliced and drained (see below)
1-2 Tablespoons cornstarch
1 cauliflower, chopped
¼ Frank's hot sauce
1 teaspoon honey
2 Tablespoons melted butter
Optional: Serve with brown rice and celery sticks
DIRECTIONS
Preheat oven to 450°F.

Prep the tofu by slicing into cubes or slices. Then sandwich between 2 paper towels or cloths, adding something heavy on top for 15-20 minutes to press the water out and into the towels. Once tofu is drained, lightly coat each piece in corn starch and place on baking sheet. Bake for about 20 minutes, flipping over half way through cooking.

While tofu cooks, prep the cauliflower by removing the tougher core in the middle after halving, and then breaking or cutting the florets into bite-sized pieces. Place on baking sheet, drizzle with olive oil and sprinkle with salt, and place in the oven for 20-25 minutes. (If you are preparing just this recipe, you can put the cauliflower in the oven at the same time as the tofu.)

While the tofu and vegetables are cooking, make the dressing. Combine hot sauce, honey and butter in a small bowl. Whisk until well mixed.

Coat cooked tofu and cauliflower in the sauce when they come out of the oven. Divide the mixture between 3-4 plates or Tupperware. Serve with celery sticks and brown rice or your favorite grain of choice.