Recipe: Comforting vegetarian chili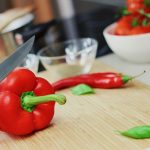 Chili is an excellent "comfort food" that is full of fiber and easy to make. It also delivers an inner warmth while we wait for summer to fully hit the Pacific Northwest. An extra bonus—chili provides about 10% of your daily calcium needs for strengthening the bones. Top with plain yogurt or shredded cheese for an additional dose of calcium.
Have extra avocado and yogurt? Relax after dinner with the hydrating face mask, recipe below!
Serves:
6
Prep Time:
20 minutes
Cook Time:
40 minutes
INGREDIENTS
2 tablespoons extra-virgin olive oil
1 medium red or yellow onion, chopped
1 large red bell pepper, chopped
2 medium carrots, chopped
1 fennel bulb, chopped (stalks discarded)
½ teaspoon salt, divided
4 cloves garlic, pressed or minced
2 tablespoons chili powder
2 teaspoons ground cumin
1 ½ teaspoons smoked paprika
1 teaspoon dried oregano
½ teaspoon unsweetened cocoa powder
1 28-oz can or 2 15-oz. cans no-salt diced tomatoes, with liquid
1 15-oz. can chickpeas, rinsed and drained
1 15-oz. can black beans, rinsed and drained
1 15-oz. can pinto beans, rinsed and drained
2 cups vegetable broth or water
2 bay leaves
1 to 2 teaspoons sherry vinegar or fresh lime juice, to taste
1 tablespoon of your favorite barbeque sauce, lower sugar if possible (optional)
Garnishes: chopped cilantro, sliced avocado, guacamole, tortilla chips, sour cream, plain yogurt, grated cheddar cheese, etc.
DIRECTIONS
In a large pot, warm the olive oil over medium heat. Add onion, bell pepper, carrot, fennel and ¼ teaspoon of the salt. Stir to combine and cook, stirring occasionally, until the vegetables are tender and the onion is translucent, about 7-10 minutes.

Add the garlic, chili powder, cumin, smoked paprika, oregano and cocoa powder. Cook until fragrant while stirring constantly, about 2-3 minutes.

Add the diced tomatoes and their liquid, the drained beans, broth and bay leaves. Stir to combine and let the mixture come to a simmer. Continue cooking, uncovered, stirring occasionally and reducing heat as necessary to maintain a gentle simmer, for 30-60 minutes. The longer the chili simmers, the better the flavor.

Remove the chili from the heat and discard the bay leaf. Add the vinegar, to taste. Add remaining salt, to taste. Divide chili into individual bowls and serve with garnishes of your choice.

Storage and leftovers: Chili keeps well in refrigerator for about 4 days; freeze it for longer-term storage. Leftover chili is great on nachos, quesadillas or atop a baked potato.

*If you do not have Mexican crema, mix a couple spoonfuls of yogurt with a squeeze of lemon juice, a dash of onion powder, salt and pepper.
NUTRITIONAL INFORMATION
Calories: 240 Total Fat: 6g Saturated fat: 1g Cholesterol: 0g Sodium: 1000mg (depending on how salty canned beans and tomatoes were) Total carbohydrates: 38g Dietary fiber: 10g Sugars: 7g Protein: 11g Calcium: 10%
Recipe adapted from cookieandkate.com