Recipe: Grilled Fruit and Balsamic Kabobs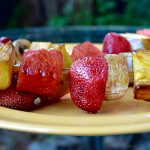 Older kids can help you put fruit on skewers. Adults and kids alike will love the tart-sweet balsamic glaze. You'll need eight or more 9-12-inch skewers.
Serves:
4
Prep Time:
30 minutes
Cook Time:
10 minutes
INGREDIENTS
2 cups pineapple chunks
2 cups watermelon chunks
2 bananas, peeled and cut into large chunks
16-ounce package strawberries (stems discarded)
2 tablespoons balsamic vinegar
2 teaspoons honey
1 tablespoon canola oil
DIRECTIONS
If your skewers are wood, soak them in water for at least 30 minutes.

Heat grill to medium-high heat.

Poke fruit onto the skewers. Try to fit 2 pieces of each kind of fruit on each skewer. Place onto a platter or a baking sheet.

In a small bowl, mix vinegar, honey and oil. Whisk together. Brush balsamic-honey mixture on fruit with a basting brush.

Place fruit kabobs on grill. Turning a two or three times and baste with remaining balsamic-honey mixture. Cook until fruit is caramelized about 8 to 10 minutes. Serve!
NUTRITIONAL INFORMATION
Per Serving (two 9-inch skewers)
Calories: 199, Total Fat 4.1g, Saturated Fat 0.3g, Cholesterol 0mg, Sodium: 5.2mg, Total Carbohydrate: 43.1g, Fiber 5.3g, Sugar: 29.9g, Protein: 2.4g
Recipe copyright © 2016 American Heart Association.