Climbing to new heights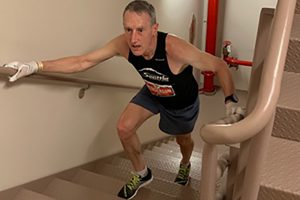 At age 56, competitive stair climber Mark Henderson is just hitting his stride
Some people are born to be true competitors; others just want to be fit and healthy for life. Mark Henderson, a PacMed™ patient, happens to be both. Racing up stairs was not Mark's first choice of physical activity. For many years, the retired Navy commander competed multiple times per week at racquetball and road and trail running. Nagging injuries led him to seek the cause of some pain that rest and recuperation would not heal.
An X-ray revealed Mark had arthritis, both in his back and hip.
"I wish I would have known earlier that it was arthritis," says Mark. "I blame myself… I would just ignore the pain and think rest would make it better."
Mark's arthritis diagnosis led him to Aysha Morgan, a physical therapist at PacMed Canyon Park in Bothell.
"When Mark first came to see me, I could tell he was an incredibly fit yet frustrated individual because he was in so much pain," recalls Aysha. "He was told he needed a total hip replacement, but we decided together to first try targeted physical therapy for specific muscle groups that would allow Mark to continue to function at a competitive level."
Their agreed-upon plan worked incredibly well. Today, Mark is the #2 ranked amateur stair climber in the nation—placing second in Seattle's recent Big Climb, winning the 50+ national championship in Las Vegas two years running and placing ninth among international climbers in the Empire State Building Run Up.
Mark says he worked with Aysha for six months, "primarily to improve my flexibility and strength so I could retain as much mobility in my hip as possible…I kept doing the basic stretching and specific exercises she taught me, along with working in some yoga."
"Stair climbing is remarkably easy on the joints," adds Mark. "You're really not running; you just take a couple of steps and use the handrails to propel you up each flight of stairs."
What's Mark's advice for staying active in spite of a physical challenge?
"Find an exercise or activity that's right for you, whether it be hiking, stair climbing, tennis or swimming. It's also a good idea to have a workout buddy. I've found a couple of training partners who are as crazy about climbing stairs as I am!
"As far as working through injuries, don't ever give up. Listen to your body and seek quality medical care if you need it. I'm confident that when I do need to get my hip replaced, PacMed's access to top orthopedic surgeons in the area will enable me to get back to being as competitive as I can in whatever sport I am able to pursue."