Peach caprese salad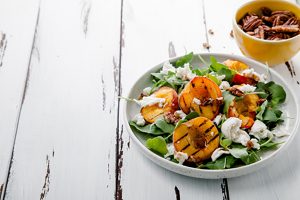 This simple and tasty recipe is a perfect summer side! Look for local fresh peaches from farm stands or Pence Orchards for the most flavor.
INGREDIENTS
2 ripe peaches or nectarines, sliced 1 pint cherry tomatoes, halved
½ cup fresh corn kernels
¼ small sweet onion, thinly sliced
8 oz fresh mozzarella, torn into pieces 2 tablespoons olive oil
Kosher salt Black pepper
2 cups baby arugula
½ cup fresh basil, torn into pieces
DIRECTIONS
Wash and spin/air dry greens. In a large bowl, toss peaches, tomatoes, corn, onion and cheese with olive oil. Season with salt and pepper to taste. Let sit at least 5 minutes. Fold in arugula and basil and transfer to a serving platter.
NUTRITIONAL INFORMATION
Serving Size: One-fourth of recipe
Total Calories 280, Total Fat 17g, Saturated Fat 7g, Cholesterol 46mg, Sodium 350mg, Carbohydrate 19g, Dietary Fiber 3g, Sugars 12g, Protein 13g, Potassium 475mg
Recipe from Woman's Day online magazine. Find more recipes at PacMed.org/recipes.