COVID winter exercise: Tips from a Diabetes Star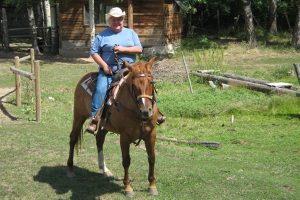 Terri Woodrow knows a thing or two about self-care while living with diabetes. As one of PacMed's doctor-nominated "Diabetes Stars," we had planned to print a story on her approach to healthy living before COVID-19 hit. We were lucky to reconnect with her around her busy schedule, now that she's back in the (virtual) classroom as a para-educator, to hear how she's adjusted her health routine for COVID times.
When the weather's nice, get out and about
"I'm fortunate to live close to an urban park area, so when the weather's nice I'll go for a 30- or 40-minute walk. It's always nice to get outside in the fresh air, especially during the winter time."
Revisit past activities, try new ones
"One love of mine is aerobics. I used to teach it back in the day. I gradually switched from aerobics to running. When I couldn't run anymore, I tried swimming and other low-impact activities, but was never consistent with them. Recently, I rediscovered aerobics. I found an instructor (Jenny McClendon, a licensed physical therapist) on YouTube. She has a love of teaching seniors and beginners in hopes they know it's never too late to start an exercise program. It's perfect for me, now that I'm 65. I've also done line dancing a few times a week and resistance training with elastic bands. If it's something you love, you're apt to stick with it."
Find a pace that's right for you–and keep going
"Along with diabetes I've had a few other health issues, like back and shoulder problems, so I'm not able to go all out anymore. I've learned through my PacMed doctor and diabetes educator how important regular exercise is to my ongoing health. So, I find the pace that's right for me and keep rolling."
Start with the tools you have–but start
"You don't have to belong to a gym or buy fancy equipment to exercise. Resistance bands are a good, affordable investment. For light weights you can use water bottles filled with dried beans or soup cans. One YouTube video shows you can get in a complete workout just using a chair!"
Mental health affects diabetes, too
"I've learned that added stress can cause glucose levels to spike. When COVID-19 hit, and then the riots started, my numbers went up. I've learned to limit my news intake, be gentle on myself, stay positive and find things to look forward to. It's funny, now I get compliments on being so optimistic!
"One thing I'm looking forward to is a three-week driving tour of Yellowstone and the Grand Tetons with a friend. We had to cancel the trip this year because of COVID, but we're determined to do it next year. I love the planning and anticipation … it's almost as fun as the actual trip!"
Also read how Terri got started on the path of living a healthy life with diabetes in Traversing the Diabetes Trail.
PacMed is nationally recognized for providing high-quality diabetes care. We help patients manage their diabetes through education, classes and support. Learn more about diabetes care at PacMed.