Prepare a home health kit to get more out of virtual visits!
Get the most out of a phone or video visit with your doctor with just a few items. Check your vital signs, give your care team data they need, and even administer basic remedies they might recommend to feel better. Remember extra batteries!
Thermometer. Get a digital model that goes in the mouth—these are more accurate than skin readings.
Oxygen saturation/pulse monitor/oximeter. You can have alarmingly low oxygen saturation and not feel it! Slip your finger in this small device for a quick reading that can point to respiratory illnesses like COVID-19.
Blood pressure cuff. Get a cuff for the upper arm with an easy-to-read display. Body posture is important—follow the cuff instructions (more tips online). See below for tips on getting an accurate reading.
Scale. Keep it basic, nothing fancy needed.
Tylenol. Unlike ibuprofen or Aleve, Tylenol doesn't cause GI upset or bleeding, and it's OK for those 65+. Choose Extra Strength/500 mg. If you are allergic to Tylenol or have liver disease, talk with your provider before taking.
Nasal rinse. Irrigating the nasal passages helps to relieve congestion. You'll need a neti pot or a special squeeze bottle, distilled water and a saline mix (find a recipe online).Buy saline packets at drug stores, or make your own solution: 8 ounces of distilled water + 1/4 teaspoon non-iodized salt + 1/4 teaspoon baking soda. If you use tap water, it must be boiled (and then cooled) to prevent infections. Rinse the bottle/neti pot after each use with sterile water and air dry.
Don't delay! Some of these items may be on back order. Keep these along with your first aid kit to stay healthy from the safety of home. Also, we'd like to share these tips for taking your blood pressure…
7 Simple Tips to Get an Accurate Blood Pressure Reading
USE CORRECT CUFF SIZE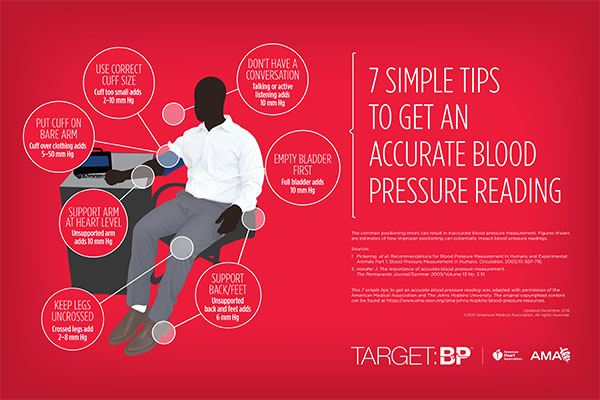 Cuff too small adds 2–10 mm Hg
PUT CUFF ON BARE ARM
Cuff over clothing adds 5–50 mm Hg
DON'T HAVE A CONVERSATION
Talking or active listening adds 10 mm Hg
EMPTY BLADDER FIRST
Full bladder adds 10 mm Hg
SUPPORT BACK/FEET
Unsupported back and feet adds 6 mm Hg
KEEP LEGS UNCROSSED
Crossed legs add 2–8 mm Hg
SUPPORT ARM AT HEART LEVEL
Unsupported arm adds 10 mm Hg