Feta-Sweet Potato Salad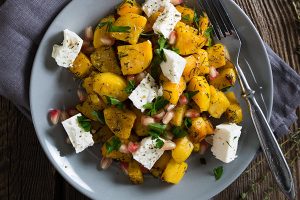 INGREDIENTS
Salad
3 sweet potatoes (peeled & cubed)
1 small red onion (sliced)
1/3 cup crumbled feta cheese
1/3 cup chopped fresh parsley
Dressing
1/4 cup extra-virgin olive oil
2 tbsp. apple cider vinegar
1 tbsp. Dijon mustard
1 tbsp. honey
1/2 teaspoon ground cumin
1/4 teaspoon ground paprika
DIRECTIONS
Toss in olive oil: 3 sweet potatoes (peeled & cubed), 1 sliced small red onion, salt & pepper.

Roast in a 400˚ F oven about 20 minutes, until tender.

In a large bowl, mix dressing ingredients.

Add roasted vegetables and toss with 1/3 cup each crumbled feta cheese and chopped fresh parsley. Serve warm or chill for later.
Adapted from delish.com.