Salmon Croquettes with Dill Sauce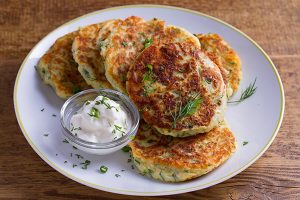 Serves:
6
Prep Time:
10 minutes
Cook Time:
10 minutes
INGREDIENTS
Combine to make sauce:
1 - 1/2 cups plain yogurt or light sour cream
1/4 cup Dijon mustard
6 sprigs fresh dill, chopped
For salmon croquettes:
4 cans (7.5 oz each) of salmon packed in water, drained, skin and bones removed
4 celery stalks, finely chopped
1 large white onion, finely chopped
4 large eggs, beaten
1/2 tbsp. salt
Black pepper, to taste
DIRECTIONS
In a bowl, thoroughly combine salmon, celery, onion, eggs, salt and pepper. Divide in eight and form patties by hand, pressing together. Heat a large skillet, add 2 tablespoons olive oil and cook patties. They are delicate, so turn just once—5 minutes per side. Enjoy with sauce.
Adapted from Soul Food Love: Healthy Recipes Inspired by 100 Years of Cooking in a Black Family.