Reshape your habits for better health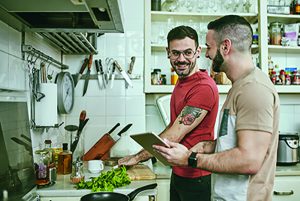 How we choose to eat, drink and unwind plays a major role in our health over time. Entering the new year, we asked several PacMed providers to offer insight into what's trending—and what should be.
GET MOVING
"An hour of activity outside of work per day complements the other factors of good health: diet, sleep and stress management. It doesn't need to be strenuous—walking is an excellent option. Find an activity buddy. Studies show even an online accountability partner helps the behavior stick."
—Charles Falzon, MD, MBA, Family Medicine doctor at Northgate
WE RECOMMEND
A MEDITERRANEAN BOOST
"A 'Mediterranean' diet of mostly fruits, vegetables, whole grains, beans, nuts, seeds and olive oil lessens the risk for stroke. It also may link to longevity, weight loss and a lower risk for cardiovascular and fatty liver diseases. The diet allows for low-to-moderate consumption of wine, fish, poultry and dairy (but very little red meat)."
—Rex G. Cheng, MD, Gastroenterology and Hepatology specialist at Canyon Park and First Hill
TRY "DRY JANUARY"
"Many people start the new year by abstaining from alcohol for a month. Why is this a good thing? People can develop a tolerance with regular drinking. Taking a break helps reset and gives your liver a chance to repair itself."
—Dimple Sahay, MD, Family Medicine doctor at Renton
WHOLE30: TRY IT (NOT A DIET)
"If you decide to get on the Whole30 bandwagon, remember it's a 30-day elimination diet—not a long-term strategy for health or losing weight. There may be success stories, but there's no scientific evidence backing Whole30 yet. Even if you find some foods to eliminate, you'll need to follow a proven healthy eating plan—like the Mediterranean diet—for lasting health."
—Christy Goff, MS, RDN, CD, — dietitian serving PacMed clinics, plus local employers through the Living Well Alliance™
WE RECOMMEND
BE A QUITTER
"Smokers who are ready to quit can be helped by individual or group therapy, as well as websites or phone apps. Smoking is tied to cardiovascular and coronary diseases, lung diseases such as asthma and COPD, bronchiectasis and lung cancer."
—Internal Medicine doctor at PacMed
IS VAPING A HEALTHY OPTION?
"Although e-cigarettes are relatively new, there are a number of case reports connecting vaping to lung diseases like 'popcorn lung'—named for workers in the popcorn-making industry exposed to the compounds used to color and flavor the popcorn. The solutions that go into vaping solutions are fairly unregulated, and inhaling any extraneous chemicals is fraught with health dangers."
—Hina Sahi, MD, Pulmonologist at Beacon Hill, First Hill and Renton
WE RECOMMEND