Tahini Stuffed Dates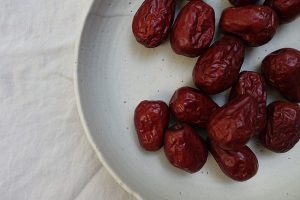 Want something just a little different for dessert to wow your guests? Try this unique salty/sweet combination full of fiber, protein and healthy fats! Don't like tahini? Substitute a nut butter (peanut, almond, cashew).
Serves:
25
Cook Time:
25 min
INGREDIENTS
25 Medjool dates
4 Tbsp tahini, divided (from raw or roasted sesame seeds)
Pinch sea salt
2 Tbsp unsweetened dried, fine coconut flakes or sesame seeds
1¼ cup finely chopped dark chocolate
1 Tbsp coconut oil
DIRECTIONS
In medium saucepan, bring 2 inches of water to a simmer over medium-high heat. Reduce heat to medium-low and set a glass or ceramic bowl on top of pan, resting on pan's rim. Make sure bowl doesn't touch the water. (This creates a "double boiler.")

To the bowl, add chocolate and coconut oil and let melt, stirring occasionally, about 2-3 minutes.

Next, remove pits from dates, slicing carefully down one side but keeping date in one piece. This should create a small crevice in the date so it's easy to add the tahini. Fill dates with ½–1 tsp tahini.

Place dates on a parchment-lined baking sheet and pop in freezer to chill while chocolate thickens.

Once chocolate has thickened, add one date at a time and flip with a slotted spoon or fork to fully coat, and then tap off excess chocolate. Set back on parchment-lined baking sheet and immediately sprinkle with sea salt and either sesame seeds or coconut. Repeat with all dates. Bring dates to room temperature before enjoying for best flavor/texture.

Store leftovers in the refrigerator for 1 week, or the freezer for 1 month.
NUTRITIONAL INFORMATION
Nutrition Information: Serving size = 1 date
Calories: 141
Fat: 11.9g
Saturated Fat: 7g
Carbohydrates: 9.7g
Sugars: 6.1g
Sodium: 15mg
Fiber: 2.1g
Protein: 1.3g
Recipe adapted from www.minimalistbaker.com