Novel coronavirus, COVID-19
COVID-19 vaccinations are available to individuals who qualify according to state guidance. PacMed is partnering with public health partners in a mass vaccination effort. Learn more.
PacMed is recommends public testing for COVID-19. Visit our COVID-19 Testing page for details.
PacMed is offering in-person and virtual visits for patients to address your medical concerns. Schedule now online, through MyChart or by calling 1.888.472.2633.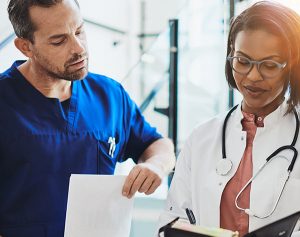 Some visit types may require a COVID-19 test before coming in for care. We will let you know. You can help by monitoring your own symptoms. If you are experiencing COVID-19 symptoms, please call your health care provider as a first step, before coming into a clinic, doctor's office or emergency department. We can help triage your case and direct you to the best care for you.
You may also use our online Coronavirus Assessment tool.
PacMed is working closely with the Centers for Disease Control and Prevention (CDC), as well as state and local health authorities. Our shared goal is to care for affected individuals while taking steps to limit person-to-person spread within our communities.
King County issues regular updates on COVID-19 and public health measures. Read the latest bulletins.
Overview of the virus
COVID-19 is an illness caused by a new strain of coronavirus. It is believed to spread in ways similar to the common cold—such as through coughs, sneezes, or handshakes.
A person who has caught the virus may not show symptoms for between 2-14 days. This is called the incubation period. The person can spread the virus during this time. The virus may also live on non-disinfected surfaces for up to 9 days.
We are following established infection prevention protocols and remain prepared to care for patients. We have trained and practiced for these scenarios. When you enter a PacMed clinic, you may see certain staff members wearing masks. This is a preventative measure. Patients who exhibit any respiratory symptoms will also be asked to wear masks.
Chloroquine/Hydroxychloroquine prescription for COVID-19
There are no US Food and Drug Administration (FDA)-approved drugs specifically for the treatment of patients with COVID-19. At present, clinical management includes infection prevention and control measures and supportive care. There are no currently available data to inform clinical guidance on the use, dosing, or duration of hydroxychloroquine for prophylaxis or treatment of SARS-CoV-2 infection.
www.cdc.gov/coronavirus/2019-ncov/hcp/therapeutic-options.html
How to protect yourself and others
The following practices are recommended to stop the virus from spreading through different pathways:
Practice social distancing, avoid public gatherings and work from home when possible.
Wear a mask when leaving your home. Masks are now required in Washington State when social distance cannot be maintained.
Clean your hands often by washing them with soap and water for at least 20 seconds or using a hand sanitizer that contains 60%–95% alcohol. Soap and water should be used if hands are visibly dirty. It is especially important to clean hands after going to the bathroom; before eating; and after coughing, sneezing or blowing your nose.
Cover your cough or sneeze—using your elbow or a tissue. Then throw the tissue in the trash. (Putting a tissue on a table contaminates the surface of the table with germs.)
Avoid touching your eyes, nose and mouth.
Stay home except for food shopping and medical appointments.
Self-quarantine if you have been told to by a medical professional.
Routinely disinfect frequently touched objects and surfaces. You can use a cleaning spray or wipe that includes effective disinfectant ingredients, such as 62%-71% ethanol (ethyl alcohol), 0.5% hydrogen peroxide or 0.1% sodium hypochlorite (bleach).
Higher-risk populations
COVID-19 is more serious for older adults and those with certain health conditions or other risk factors. Health care workers and first responders may also be at elevated risk of getting COVID-19 due to close contact with affected populations. Please check with your health care provider if you suspect you may have elevated risk.
If you fall into a high-risk category, we recommend taking additional precautions to protect yourself from exposure:
Stay at home as much as possible.
Have items delivered or ask for help with shopping and errands.
Avoid potentially infected people.
Diligently following the protective and disinfecting measures listed above.
If you feel sick
Confirmed symptoms of COVID-19 include: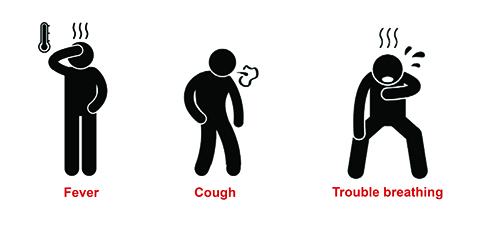 Fever or chills
Cough
Shortness of breath or difficulty breathing
Fatigue
Muscle or body aches
Headache
New loss of taste or smell
Sore throat
Congestion or runny nose
Nausea or vomiting
Diarrhea
If you think you have been exposed to the virus and have these symptoms, please call your health care provider as a first step, before coming into a clinic, doctor's office or emergency department. Your health care provider can give you instructions for seeking care, and will help you avoid exposing others. You can find phone numbers for each PacMed clinic here: www.PacMed.org/locations.
In addition, you may also utilize virtual visits with a health care provider, or an online coronavirus assessment tool provided by Providence.
Additionally, if you are in King County and believe you were exposed to a confirmed case of COVID-19, please contact the King County novel coronavirus call center: 206.477.3977, between 8 AM-7 PM daily.
When to stay home
You should stay home if:
You have been told by a health care professional to self-quarantine.
You believe you have been exposed to the virus, even if you are not showing any symptoms.
You are sick or have COVID-19 symptoms (also contact your health care provider).
You have traveled to a country that the CDC lists at a level 2 or 3 travel health notice and feel ill.
You are in a high-risk category as outlined above (over 60, preexisting medical condition, etc.).
Thank you for working with us to keep yourself and our communities safe. If you have questions about whether you should come into the clinic or another facility, such as an emergency room, please call us first at 1.888.4PACMED (1.888.472.2633).
Other resources to stay informed