Spicy Green Beans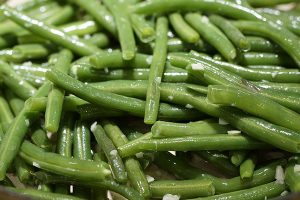 Add some spice to your life with this amazing green bean recipe.
Serves:
2
Cook Time:
15 min
INGREDIENTS
1 tsp coconut or olive oil
1/2 lb green beans, ends trimmed, chopped into bite-size pieces
2 cloves garlic, finely chopped
1 tsp soy sauce
1 tsp siracha (or 2 tsp chili flakes)
Yummy Additions
1 tsp ginger, grated
1 tsp lemon juice
1 Tbsp crushed roasted walnuts or almonds
DIRECTIONS
Add the oil to a frying pan on medium heat. Once hot, add the green beans and let them cook undisturbed for about 1 minute.

Mix the garlic, soy sauce and siracha in a bowl (and the ginger and lemon juice, if using). The beans should have turned bright green.

Add about ¼ cup of water to the pan. Cook another 2 minutes, until the water is mostly gone. Pour the sauce into the pan and toss gently to coat.

Cook another 2 minutes, until everything is fragrant and most of the liquid is gone. Taste and add more hot sauce or soy sauce if you want the beans hotter or saltier.

Top with walnuts/almonds if using.
NUTRITIONAL INFORMATION
Nutrition Information: Serving size = 1/2 of green beans Calories: 67 Fat: 8g Saturated Fat: 2g Carbohydrates: 10g Sugars: 5g Sodium: 218mg Fiber: 3g Protein: 3g
Recipe adapted from www.minimalistbaker.com