DXA Bone Scanning
We're making it easy to take care of yourself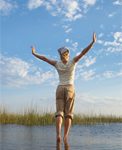 Women have busy lives, often fitting work, family and household responsibilities into a hectic day. That's why Pacific Medical Centers is also offering DXA bone scanning at the Women's Diagnostic and Wellness Center. Taking care of a mammogram and a DXA scan on the same day will save time and in turn, makes it more likely that you'll get the DXA scan, which is important for future bone health.
DXA Bone Density Scanning

Our DXA scan is a way for you to be proactive about your bone health. If detected early, there are many therapies and treatments available to prevent bone deterioration from osteoporosis. This safe, painless testing will help you and your physician make effective treatment decisions.
Pacific Medical Centers is an ISCD accredited facility.