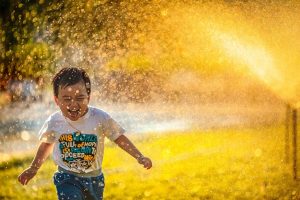 Parents, what are you going to do with your kids this summer? Staying physically fit is as important as completing their summer reading list! Be sure to mix fun with safety for a successful summer.
To avoid injury and promote safety, put these summer safety measures into practice:
Take water with you for outside activities to be sure everyone stays well hydrated.
If you are going hiking, take water and also snacks, a warm layer and a rain jacket. Also, tell someone exactly where you plan to hike and when you should be back.
Apply sunscreen before going outside.
Do some simple stretches to loosen up before walking or hiking (for example, "runner's" stretch for the calf muscles, hamstring stretches, arm circles).
Wear a helmet when riding a bike, skateboard, scooter or other toy. Ask an expert to help you properly fit your child's helmet so that it's snug, level and comfortable.
Be cautious with vigorous outside activities during the middle of the day when the sun is the warmest.
When around water, give children your full attention—a child isn't safe just because he or she knows how to swim. Even a bucket, a fountain or a shallow, backyard wading pool is a drowning hazard for a young child—so drain containers when children are done playing or wading.
Choose pools that have adequate safety measures—high fences that lock, lifeguards on duty and safety/rescue equipment nearby.
Ensure that on boats or docks that all children wear a well-fitted life jacket that's Coast Guard approved.
Then—get your kids active! Here are some ideas:
Run through a sprinkler.
Go to a beach and skip rocks, look for small critters in the sand and rocks, count the seagulls.
Take a walk along a river. Keep an eye out for fish, insects or other creatures using the water.
Fly a kite.
Shoot hoops at the local school playground.
Play "follow the leader" at a nearby park or through your neighborhood. For example, hop up and down steps, walk on a narrow line, kick up some old leaves or a pine cone, swing across the monkey bars and slide down a slide.
Learn to hula hoop.
Get together with friends and have relay races, keep a beach ball up in the air, do somersaults, roll down a small hill, play tug-o-war, etc.
Active, physical exercise helps children increase self-confidence, boost coordination and build strong muscles and bones—along with a healthy appetite! Combining safety and fun is the smart way to help your kids enjoy summer.