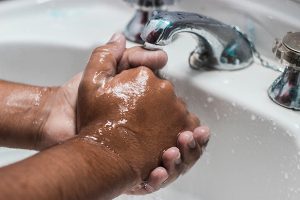 We have all watched someone quickly rinse their hands in a restroom and rush out the door—or skip the sink altogether. Body fluids and viruses are invisible to the naked eye, but these germs are everywhere. They contaminate commonly touched surfaces like handles, doors, walls, counters and paper dispensers.
To help your family avoid the flu, there is no substitute for handwashing. Disposable hand wipes or gel sanitizers also work well, although they don't remove dirt and grime.
Handwashing is one of the most effective ways to stop disease.
Wash your hands often: always before eating or preparing food, and always after using the bathroom or changing a diaper.
Soap and water work well to kill germs. Rub your hands briskly.
How long? At least 20 seconds—try humming "Happy Birthday" through twice.
Most people miss the backs of the fingers and thumbs … fingertips … the creases in the palms.
Use a paper towel to turn off faucets and to open the door.
With flu season here, give your hands the soapy wash they deserve. Take two minutes to safeguard your health—and wash your hands!