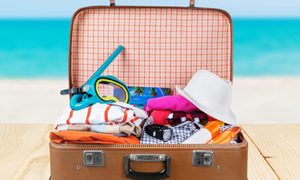 PacMed doctor gives tips on summer travel safety.
Summer is in full swing! Amidst the poolside lounging and sunscreen slather, people celebrate sun-shining freedom by packing their bags and saying Au revoir to our beloved Evergreen State in favor of one alluring destination or another. Whether traveling solo or booking a trip with the whole family in tow, Pacific Medical Centers' Doctor of Family Medicine Dr. Ari Gilmore, MD, is on the scene to advise proper preparations, give tips on maintaining dietary balance, and provide ideal destination suggestions suitable for families.
Summer is the time for travel — both domestic and abroad. What should soldiers and civilians keep in mind as they prepare for travel?
If you're traveling to somewhere sunny, it's incredibly important to wear sunscreen to prevent burns and keep skin healthy long-term. Remember to pack SPF 30 or higher and apply it every two hours, as well as after swimming in saltwater. If you plan to be on the water on your vacation, make sure you have a designated boat driver who is not drinking alcohol. Also, be cautious with ocean currents and waves at the beach. If you get caught in a riptide while swimming, relax and swim parallel to the shore until you are out of the current. You should also make sure you're adequately prepared for every adventure to avoid injury, such as wearing proper shoes while hiking. It's also important to stay alert and attentive to your surroundings while walking to avoid twists or sprains.
What are the main health concerns when traveling abroad? How can people steer clear of these threats?
Know which diseases are endemic to your destination and could put you at risk, such as zika or yellow fever, and take preventive measures before and during your trip. You can visit cdc.gov/travel or see a travel physician one month prior to your trip to ensure you have the proper vaccines. Other basic precautions include avoiding mosquito bites and following guidelines for safe food and water. Raw and street foods as well as tap water and ice are at risk of contamination in developing countries.
Often, proper diet and physical activity get put on the back burner while traveling. What suggestions do you have to maintain a healthy balance during vacation?
Moderation while on vacation is key. It's easy to get in the mindset of wanting to indulge, but aim to choose a healthier option on the menu and limit yourself to one treat per day. Drinking water and staying hydrated are also incredibly important while traveling. Travelers should plan in advance something active to do each day, whether a walking tour through the city or surfing at the beach.
What immunizations and supplements do you advise receiving that are dependent on region or continent?
Travelers to South Asia should get a typhoid fever vaccination. Additionally, travelers to South America or Africa should check to see if their plans include a yellow fever area and receive a vaccine at least 10 days prior to travel. For a full list of vaccine recommendations by destination, you can visit https://www.cdc.gov/travel/destinations/.
Do you have any suggestions for destinations that are optimal for the whole family? What makes these locations ideal?
For the outdoor enthusiasts, national parks such as Yellowstone, Yosemite and the Grand Canyon are great places to enjoy scenic views and day hikes on well-maintained, family-friendly trails. If you're looking for a sandy beach vacation, Hawaii offers relaxing beaches along with numerous activities that are fun and safe for the whole family, including bike tours, sea life parks and luaus. For those living in the Pacific Northwest, Alaskan cruises are a great option as well. The ships conveniently set sail from Seattle and offer scenic mountain views and an abundance of kid-friendly activities on the ship like pools, arts and crafts, and video games — one ship even has a go-kart track.
Is there anything else you would like readers to know about summer safety while traveling?
For travelers looking to reduce jet lag, your experience on the plane contributes as much to feeling bad after a flight as the time change does. Drink a high volume of water before and during your flight to stay hydrated. It's also best to avoid substances that make it difficult to recover from jet lag, such as caffeine, alcohol or sleeping pills.