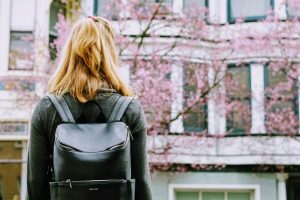 PacMed provider gives parental advice on college-bound teens
Stress abounds for former high schoolers as they prepare for college endeavors and begin to make the transition into adulthood. Parents have their hands (and hearts) full as well, making plans for their beloved offspring to flee the nest in pursuit of higher education.
College students may have different back-to-school needs than their younger counterparts. Can you tell me what those items may be? What health screenings and/or immunizations should take place prior to students going off to college?
For patients in their adolescent or young adult stage (usually between ages 12 to 18 years old), and parents of adolescents, we encourage openly addressing behaviors, associated questions, and the importance of regular health screenings. The five most common (and important) conversations for both adolescents, and their parents, include: Risky Health Behaviors(alcohol consumption, drugs, tobacco and e-cigarette devices, sexual activity); Physical Activity (engaging in 30-45 minutes of exercise most days of the week, exhibiting healthy eating and dietary habits); Obesity (If a child is obese, consider having their blood pressure and cholesterol levels checked regularly and screen for diabetes); Mental Health (screening for depression and other mental health issues is also very important at this age); and Updated Immunizations (students and parents should keep all immunizations updated. It is also a good idea for the student to keep a copy of their immunization records for future references, as they transition out of the house. This can easily be kept on their phone and should include Tdap every 10 years, Menactra and MenB, HPV, Hepatitis A, Hepatitis B and Influenza yearly).
Are there any health concerns that are unique to college students? If a young person has a health concern while away at college, how should they proceed?
Parents and their college-aged children should become familiar with the health services available at their college, as most colleges and universities have university clinics on campus.
Keep in mind the following: Where is the clinic located? What are their hours? What's the nearest clinic or doctor for after-hour needs? Do they offer mental health services at this specific university or college? It's also important that the child know their insurance status and keep a card in their wallet.
How can parents help their children stay healthy from afar while they are enrolled in college?
Make sure your children are aware of their past medical history and the family's medical history, such as autoimmune disorders, psychiatric, heart disease, or diabetes. They should be aware of any history of asthma, concussions, hospitalizations, surgeries, or allergies to medications. Ensure they know what medications they are taking, the names of these medications, details and the dosage. Also, it would be great for your child to have a small first aid kit that they can keep in their dorm room. This would include Band-Aids, triple antibiotic ointment, thermometer (make sure they know how to use it), sterile gauze/pads of different sizes, adhesive tape, antiseptic wipes, Tylenol or Motrin, and a list of emergency contact numbers and their primary care provider's details.
Do you have any more healthful tips and suggestions for parents and college-bound kiddos?
Living in a dorm, your child will be exposed to lots of new people in a new and unfamiliar environment. They will probably be using the same showers, toilets, sinks, doorknobs/glasses — and unfortunately, exposed to lots of germs. Be sure to share the importance of regularly washing your hands often, especially before eating or touching your face. The use of antibacterial gels works just as well as washing — share that they can carry a small container in purse or pocket. College is a period filled with fun, excitement, nervousness, and change. However, there are many people available to the student to help in that transition to make sure it is filled with happiness and good health.