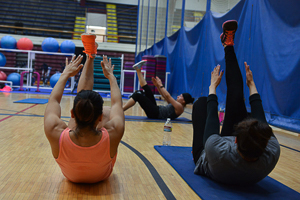 PacMed doctor explains common injuries and preventive measures for military training.
Tired of getting hurt during military training? One local sports medicine doc has some tips.
Dr. Stephen Gingrich, a sports medicine physician graduated from medical school back in 2010, and has been with PacMed since August of 2015. With a background in personal training, he has witnessed and treated many sports-related injuries, enabling him to identify the most common ailments associated with military training regimens and routines.
Do you have any personal affiliation with the U.S. military?
I do not, although I do currently see a lot of patients who either are or have been in the military.
What would you say are the most common military training injuries?
For the military, the most common injuries are over-use injuries – particularly in the lower limbs. Medial Tibial Stress Syndrome and shin-splints are two of the most frequent injuries I see. These are fairly severe issues because they can mean that any weight-bearing can become very painful. Stress fractures are also somewhat common, and although most people do not get to that point, it certainly does happen. People can also develop what's called Stress Reaction, which is usually something that people who are training come in for seeking medical advice.
When are these injuries most likely to occur?
One of the times in which many military recruits encounter these injuries is during basic combat training. You see a lot of these injuries develop once a person starts to run or do a lot of weight training without a gradual build-up.
How do unsafe practices make these injuries occur?
Unlike many athletes who start their training earlier in life, many people who join the military don't have that background, so they're essentially starting from scratch. When this happens, a lot of over-use injuries are likely to happen. There are definitely things specific to the military with higher risk for these kinds of injuries; parachuting, for example, can cause lower-limb impact injuries.
How can these injuries be prevented – what steps or practices can be utilized to ensure safety for everyone?
The main preventative measure would be to prepare before the conditioning program so that the soldier is not starting without any proper exercise training. U.S. militaries have started implementing programs that have a screening process for recruits that may be at higher risk for developing these injuries and putting them into a program where they slowly build stamina to a certain point and then begin the rest of the training process. The other thing to note is whether or not a recruit or active-duty member has a preexisting injury, because there is a very high risk that the injury will recur if it has not been rehabilitated correctly.
Good news for military members and their families: these injuries can be prevented with the proper preparation and safeguards. If you have further questions, consult your primary care doctor or consult one of the sports medicine specialists on our team at PacMed.