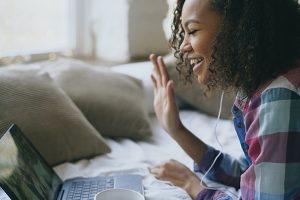 One pandemic silver lining may be a more meaningful season
If the holiday gatherings we cherish are disrupted by social distancing, how will we handle the long, dark season ahead? PacMed behavioral medicine provider Eun Ku shows us how a pandemic winter can be an opportunity to create the holidays we've always wanted.
After a long year of unimaginable changes, many fear the additional burden that winter may bring. While difficult, the pandemic presents an opportunity to get away from the "holiday rush" that many people complain keeps them too busy in the final months of the year. Rather than focusing on a loss of social connection throughout this holiday season, we may reimagine the pandemic as an opportunity to create the deeper, more meaningful holidays we crave.
As an active psychotherapist, I would like to help you better understand the mental health impacts of social isolation, and how we can engage on a different level to find a path forward during this important holiday season.
Connect on a deeper level
Those who practice responsible social distancing may be experiencing mental health impacts from isolation. People tend to cope in one of two ways. The first is through self-destructive behaviors—going to excess, such as overeating, drinking or binging on TV or video games. The other involves self-soothing behaviors, such as yoga, breathing exercises, walking, alleviating clutter or working on projects that help us feel productive. Obviously, the latter is more healthful long term.
As we invest in our own well-being, this increases our capacity for close connection with those dear to us. We feel more at ease when we're connected with people we love and trust. The pandemic can be an opportunity to strengthen those bonds.
Consider setting up a schedule where you reach out to friends and loved ones on a regular basis. Rather than hectic parties, try connecting more deeply about your experience of the pandemic in your relationships. You might call Grandma on Sunday, schedule a Zoom call with a close friend on Wednesday and write a holiday letter to someone you haven't connected with in ages on Saturdays. You can also deliver gifts to your friends' doorsteps and say "hi!" with a wave from a distance. Letting people know you're thinking about them feels good to you and to them.
If you have experienced a loss from COVID, the slower and more contemplative pace of winter may open up new space to grieve. Use these quieter months to reflect on the past year, loved ones and the changes that have taken place. If the feelings that come up seem too powerful to handle on your own, it can help to work with a mental health professional to process them.
Get creative with adventure
Staying safe from COVID makes cozy cold-weather gatherings trickier indoors. But a little creativity can open doors to a fulfilling season, both indoors and out.
If you love holiday getaways, engage the family in a virtual trip-planning adventure. Research the places you want to travel to in the future, when safety allows. Or hop in the car and take a short drive or mini-trip to treat your brain to beautiful fall and winter scenery or festive holiday lights—on homes or at a display like Stanwood's Lights of Christmas drive-thru. Another fun idea is to pretend you're spending your holiday abroad, by exploring recipes and cuisines from different cultures around the world.
Also, it's healthy to keep moving! If you enjoy decorations, add more ornaments or lights throughout the house. Mix up your décor by painting a wall, rearranging furniture or putting up new artwork or photos. Take regular walks, do Zoom workouts with friends or search out some new spots for winter activities you love—like a hidden sledding hill or an open-air ice rink where you can maintain social distance.
Broaden your welcoming spirit
To center in on the more restful, meaningful holidays we crave, it can help to engage in mindful living. One approach to mindfulness fits well with the holiday gatherings we might be missing. Rather than inviting in a network of family or friends to your home, you can extend the same spirit of welcome to whatever thoughts and emotions pass through you.
Rumi, the 13th-century Persian poet, describes how we can meet our passing thoughts and feelings with courage, warmth and respect, as if they were guests at a hotel you were managing:
"The Guest House"
This being human is a guest house.
Every morning a new arrival.
A joy, a depression, a meanness,
some momentary awareness comes
As an unexpected visitor.
Welcome and entertain them all!
Even if they're a crowd of sorrows,
who violently sweep your house
empty of its furniture,
still treat each guest honorably.
He may be clearing you out
for some new delight.
The dark thought, the shame, the malice,
meet them at the door laughing and invite them in.
Be grateful for whoever comes,
because each has been sent
as a guide from beyond.
—Jalaluddin Rumi, translation by Coleman Banks (The Essential Rumi)
The ongoing uncertainty of the pandemic may make us feel like we're losing control, and when social distance meets the holidays, it is natural to feel a sense of loss around traditions we hold dear. However, with a little focus on what we find meaningful, a sprinkle of creativity and a spirit of welcome, the 2020 holidays may be closer to what we've always wanted. And that can yield a sense of joy and centeredness that carries forward into 2021 and beyond.